The Lakewood Historical Society Asks: Who Killed Robert F. Kennedy?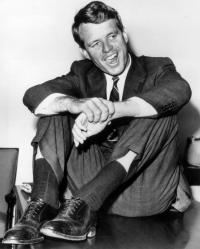 It has been fifty years since Robert F. Kennedy was assassinated in the early hours of June 5, 1968 at the Ambassador Hotel in Los Angeles. The ensuing five decades of expert crime analysis have left historians with more questions than answers.
Beverly Sadowski from the Lakewood Historical Society will be visiting Lakewood Public Library on Wednesday, January 9, 2019 at 7:00 p.m. to discuss forensic, medico-legal, eyewitness and recently discovered acoustic evidence that puts the prevailing theory up for debate.
Sirhan Bishara Sirhan is currently serving a life sentence for the assassination of RFK, but some researchers are convinced that he had very little to do with the tragedy. Did Lyndon B. Johnson order the killing as some have suggested? Was mind-control involved? Was there a second shooter? How could thirteen shots have been fired from a gun that only held eight bullets?
You will hear the compelling evidence as well as recently discovered facts that were never presented at the trial. The event takes place in the Main Lower Level Auditorium.
Read More on Library
Volume 15, Issue 2, Posted 3:50 PM, 01.22.2019