Dancing In The Chinese New Year With The Ying Tang Dance Company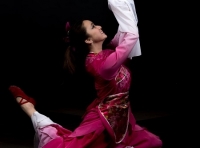 The 2019 Chinese New Year arrives Tuesday, February 5 and Lakewood Public Library is celebrating early with the Yin Tang Dance Company on Sunday, February 3, 2019. The talented group will welcome the Year of the Pig by presenting a series of traditional and fusion Chinese dances as part of our Sunday with the Friends programming. The entertainment begins at 2:00 p.m. in the Main Library Lower Level Auditorium.
A performance by the Yin Tang Dance Company is a cultural experience filled with the color, beauty and history of the country known as the Red Dragon. Originating in different regions of China, each featured dance tells a unique story. The K-pop team, "DNA Level-C" will also make an appearance with a high energy performance.
Yin Tang is Cleveland's premier Chinese choreographer. At the age of three, her mother began teaching her Classic Chinese dance. Over the years, she has made many trips to China for further instruction and has trained in Classical and Romantic Ballet as well. Having taught dance at the Cleveland Contemporary Chinese Cultural Association since 1999, she formed the Yin Tang Dance Company in 2013. Her studio is located in the Asian Services in Action office at 3631 Perkins Ave, Cleveland, OH.
Read More on Library
Volume 15, Issue 2, Posted 3:50 PM, 01.22.2019