Yes, We Are Open!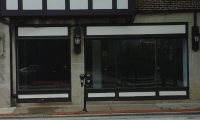 It is hard to believe that we are finally open but after serveral false starts and unforseen delays we are ready to share our art with Lakewood. Our last hurdle is waiting for the broken window to be fixed. Yes, we were the unlucky business that had a car come through the front window in October.
Lakewood Art Studios is a new artist collective, education, and event space located at 18115 Detroit Ave Lakewood, Ohio that focuses on bringing all types of artists and the community together to exhibit, participate, learn, and share experiences. We believe the arts should be accessible to everyone and that it ought to be easy for creatives to celebrate their efforts.
Since we have a lot going on it is easy to be involved. Lakewood Art Studios hosts exhibitions, workshops, critiques and artist collective meet and greets. We are always looking to connect artists and the community.
The new artist collective group would like to meet on a monthly basis and by checking the business Facebook page you will find the information about these meetings. One of our members is working on putting a newsletter together and we will be looking for things to put in it. If you have a great idea, info on a wonderful art related event, or knowledge on how to do a project we want to hear about it.
On Sunday, January 13, 2019 Lakewood Art Studios will host a peer to peer critique. This is a positive gathering intended to strengthen the bond of local artists and share their knowledge and experience with one another. If you are an artist living in Lakewood and the surrounding communities, you are welcome to join us.
Starting January 1, 2019, we will have an open call for emerging artists to submit ideas to be presented during our E. A. T. T. Luncheon. E. A. T. T. stands for Emerging Artists, Table Talks. We are also looking for community members to come and eat with us. This is a grassroots funding event and is a perfect way for artists to connect with community members.
Because Donato's is a gracious neighbor, we will be able to host several tent events that will be held in their side parking lot. Right now, we are looking at Arty Parties for June, July, August and possibly September. More details on these events will be coming soon.
Creative Journey Programs help toddlers through adults find a never-ending imagination through the process of art. We now have open enrollment for Art Lab After School, Family Art Club, Winter and Spring Break Camps, as well as Summer Camps. We have on site and outreach programs available.
Lakewood Art Studios would also love your patronage at our artist collective gallery shop. Our space is divided into private studio spaces and an area for your shopping convenience. When you shop locally you not only bring joy to the person you are shopping for, but you are helping a neighbor.
To find out more details about the events and activities in this article please contact Chris Young by stopping in to Lakewood Art Studios, calling her at 216 370 2414 or visiting the business Facebook page, www.facebook.com/LakewoodArtStudios.
Chris Young
I am an artist, educator and small business owner. I love working with wire to create jewelry and sculpture pieces that are usually described as different and unique. I also mix several mediums to make 2-D art. My mind is always trying to see ordinary items in new ways. I love working with people of any age to get them to draw outside of the lines just a little bit. It is a goal of mine to connect artists and their art with other local folks.
Read More on Arts
Volume 15, Issue 1, Posted 5:06 PM, 01.08.2019