Roosevelt Repeats As High Progress School Of Honor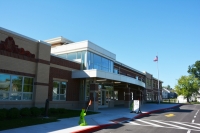 For the second year in a row, Roosevelt Elementary has earned the designation as a High Progress School of Honor by the Ohio Department of Education. The honor recognizes the school for its gains in reading and math proficiency among all students during the 2017-2018 school year. Roosevelt is the only school in Cuyahoga County to have earned this significant award.
"I remain extremely proud of the Roosevelt staff for their hard work and the students for their academic growth. The fact that they've been recognized for their efforts is icing on the cake," said Roosevelt Principal Eileen Griffiths.
To become a High Progress School of Honor a building must first be a Title 1 or Title 1-eligible school with at least 40 percent of its students classified as economically disadvantaged. In addition these schools must rank in the top 10 percent for gains in proficiency for all students. High Progress Schools of Honor must have also earned an A or B for all students on the 2017-2018 State Report Card, and an A, B or C in the Gap Closing. Overall, Roosevelt earned an A on its most recent Report Card.
As an incentive to help close achievement gaps in Ohio, the Ohio Department of Education developed the Schools of Honor program to identify, recognize and highlight schools that are making substantial progress in ensuring high achievement in reading and math for all students, many from economically disadvantaged homes.
Paolo DeMaria, Superintendent of Public Instruction for the state, said in a press release from the Department of Education: "Ohio's students can do amazing things, and these schools are creating the right conditions to close achievement gaps and address the issues that sometimes prevent students from taking full advantage of educational opportunities. Congratulations to these schools, their teachers and administrators for making a real difference in the lives of their students."
Read More on Schools
Volume 15, Issue 2, Posted 5:06 PM, 01.08.2019