Man Arrested In Connection With Quadruple Murder In Florida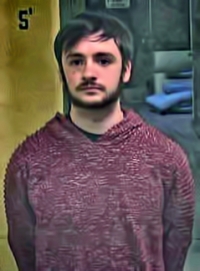 25-year-old Shelby Svensen was arrested on Newman Avenue during a routine vehicle check and taken into custody for driving a stolen 2013 Kia Sorrento. The vehicle was traced back to a missing vehicle report that was part of a triple murder in Tarpon Springs Florida on January 1. The three victims were found lying on the floor of their home in a 55-and-older community just outside of Tarpon Springs. Also three dogs were found dead inside. The bodies were discovered during a routine welfare check. Victims were 71-year-old Richard Louis Ivancic, 59-year-old Laura Ann Ivancic and 25-year-old Nicholas James Ivancic. Svensen's wife, who is Richard and Laura Ann Ivancic's daughter, is now missing. 21-year-old Jamie Nicole Ivancic is considered "endangered" and missing under "suspicious circumstances."
Svenson, who also goes by the name Shelby Nealy, was charged with receiving stolen property and domestic violence. His children, ages 2 and 3, were placed with Family Welfare Services. Saturday, Police in Florida found a fourth body in a shallow grave. There was no identity given but it is believed it is the body of his wife. She hadn't been seen in weeks. She is the daughter and sister of the other people murdered. Police are on their way from Florida to question Shelby.
Good work Lakewood Police.

Jim O'Bryan
Publisher, Lakewood Observer, Inc.
Read More on
Volume 15, Issue 2, Posted 5:11 PM, 01.08.2019