Exposing Famous Misidentified Photographs With Author Corey Recko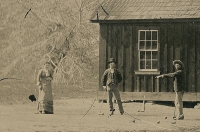 Sometimes a world famous photograph of Abraham Lincoln turns out to be a guy named Joe… or Dave, or maybe Henry. But whoever it is, it's not Abraham Lincoln. How was the entire world fooled?
Author Corey Recko is returning to Lakewood Public Library on Wednesday, January 16, 2019 at 7:00 p.m. to reveal some of the most notoriously misidentified photos that have managed to pass through the portal of truth to the promised land of unquestionable fact. The images are helped in their quest for worldwide acceptance by the internet, where they lie in wait, just one google search away from their next misinformed victim.
Corey Recko is used to separating fact from fiction as the author of three books which required extensive historical research. His first, "Murder on the White Sands: The Disappearance of Albert and Henry Fountain," won the Wild West History Association's award for the "Best Book on Wild West History" for 2007. He went on to write, "A Spy for the Union: The Life and Execution of Timothy Webster" and "Death of a Kootch Show Girl," as well as articles on a variety of historical topics for magazines and historical journals.
Abraham Lincoln, Billy the Kid and Doc Holliday are among the famous subjects of misidentified photographs that will be discussed during the program. The event takes place in the Main Lower Level Auditorium at 15425 Detroit Avenue.
Read More on Library
Volume 15, Issue 1, Posted 5:06 PM, 01.08.2019