Denise Dufala Will Be Guest At Annual "Women Honoring Women" In May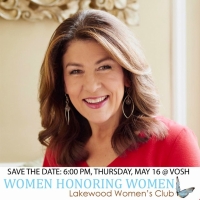 The Lakewood Women's Club is excited to announce that our featured speaker for this year's Women Honoring Women is Lakewood's own Denise Dufula! Denise is an Emmy-award winning journalist who spent 30 years in the Cleveland television market in addition to receiving a B.A. in Journalism from The Ohio State University. Along with serving as the 6 & 11 PM news anchor at WJW-TV, Denise was the original morning anchor of "Newscenter 8 This Morning." She served as a primary evening anchor on WOIO's Cleveland 19 News for 22 years, before stepping down in late 2016 to spend more quality time with her young son and husband. Denise began her career as a writer for Ohio's "Heart of It All" campaign in the late 80's, while serving as a news-promotion producer for WTVN-TV in Columbus.
During her distinguished career on Cleveland television, she covered such historic events as President Clinton's Inauguration, the Pope's visit to St. Louis, the 9/11 Attack on the United States, and most recently the 2016 Republican National Convention. She has interviewed President Bill Clinton, First Lady Hillary Clinton, President Barack Obama, Sen. Mitt Romney, and countless celebrities.
In the late 90's, Denise Dufala's "People" column in the Cleveland Plain Dealer featured northeast Ohioans making a difference in society, and gave readers good news on page 2 of the Sunday Paper.

In 2006, Denise was recognized by her peers and inducted into the Radio/Television Broadcasters Hall of Fame of Ohio. In 2010 she was inducted into the Cleveland Association of Broadcasters Hall of Fame.

Denise is known for her work with children and families. She served as a board member for The Make-A-Wish Foundation, Kati's Hope, Cornerstone of Hope and the Cleveland Community Building Initiative. Denise used her platform on the news to bring viewers "Wish of The Week" stories about inspiring Make-A-Wish kids and the tireless work of the foundation, staff and volunteers. She even recorded an album, "The Age of Miracles," of which 100% of the proceeds went to the Make-A-Wish Foundation. You can find her regularly singing in her church choir, and occasionally singing the National Anthem at Cleveland sporting events.

In 2017, Denise teamed up with Project Love/Values In Action Foundation to become Ambassador for their Stick Together campaign to combat bullying in schools. Her anti-bullying themed children's book, "Bomba The Brave," was published in May of 2018.
Throughout the years, Denise has made it her mission to raise awareness and funds for charities doing great work in the hometown she loves.
The Lakewood Women's Club is excited to have a hometown favorite like Denise as their speaker for the third annual event in May.
The Women Honoring Women spring fundraiser recognizes outstanding charitable service and economic enrichment in our Lakewood community. The awards this year will be recognizing a Community Leader and a Business Leader.

The Community Leader Award honors a woman who has demonstrated excellence in leadership through deep local understanding and outstanding initiative. She consistently advances community-driven, innovative, and sustainable solutions to the region's most pressing challenges, and service to either one organization or a variety of volunteer activities.

The Business Leader Award recognizes a woman who reflects quality and dedication in the operation of a small business in Lakewood; or, who plays a key role in establishing and implementing an economic development vision in Lakewood. She serves as a role model and participates in community affairs and activities contributing time, effort, and resources. She is an agent for change who shows creativity in business decisions or in development of specific products or services, and who will continue progress.

The Call for 2019 Nominations are DUE FRIDAY, FEBRUARY 22, 2019. We invite you to submit a nomination. All nominees will be recognized at the Women Honoring Women fundraiser to be held: 6:00 p.m., Thursday, May 16, 2019 at Georgetown | Vosh in Lakewood.​
The nomination form is available on the website and can be filled out and submitted electronically this year. https://www.lakewoodwomensclub.org/nomination-form.html
​

Kristy Feyedelem
Kristy Feyedelem, Social Media Publicity & Public Relations Chair for The Lakewood Women's Club & their Spring event, Women Honoring Women.
Owner and Photographer at SunnyDay Photography. Mom to Abby (13) and Lyla (6).
Read More on Non-Profit
Volume 15, Issue 2, Posted 5:06 PM, 01.08.2019