Call For Nominations For Third Annual Women Honoring Women At Vosh On May 16, 2019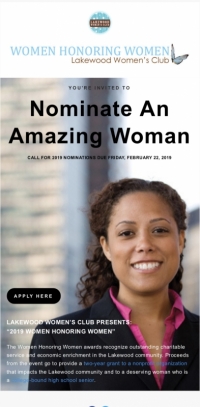 The Lakewood Women's Club will be hosting Women Honoring Women at Vosh on May 16, 2019. Local celebrity, Denise Defalla will be this years keynote speaker. Proceeds from the event will go to this year's charity recipient, Gigi's Playhouse and The Lakewood Scholarship program.
In addition to the powerful message our speakers give to the guests, there are also food, beverages and raffle baskets to bid on.
This year there will be two categories honored: Community Leader and Business Leader.
The Community Leader Award honors a woman who has demonstrated excellence in leadership through deep local understanding and outstanding initiative. She consistently advances community-driven, innovative, and sustainable solutions to the region's most pressing challenges, and service to either one organization or a variety of volunteer activities.

The Business Leader Award recognizes a woman who reflects quality and dedication in the operation of a small business in Lakewood; or, who plays a key role in establishing and implementing an economic development vision in Lakewood. She serves as a role model and participates in community affairs and activities contributing time, effort, and resources. She is an agent for change who shows creativity in business decisions or in development of specific products or services, and who will continue progress.

The Call for 2019 Nominations are DUE FRIDAY, FEBRUARY 22, 2019. If you know a local women who should be recognized then we invite you to submit a nomination to be considered. All nominees will be recognized at the Women Honoring Women fundraiser to be held: 6:00 p.m., Thursday, May 16, 2019 at Georgetown|Vosh in Lakewood. The nomination form is available on the website and can be filled out and submitted electronically this year. https://www.lakewoodwomensclub.org/nomination-form.html



Kristy Feyedelem
Kristy Feyedelem, Social Media Publicity & Public Relations Chair for The Lakewood Women's Club & their Spring event, Women Honoring Women.
Owner and Photographer at SunnyDay Photography. Mom to Abby (13) and Lyla (6).
Read More on Non-Profit
Volume 15, Issue 2, Posted 5:06 PM, 01.08.2019