Unseen, Unheard, Unknown: Documentaries At Lakewood Public Library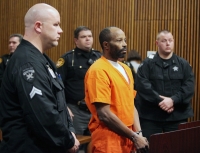 From inclusion to local crime, broaden your concept of film with these upcoming documentary screenings at the library.
"Unseen" begins with a grisly discovery in an unassuming white duplex. The 2009 arrest of Anthony Sowell was a shock to Cleveland's Mount Pleasant neighborhood, but his crimes came as no surprise to his surviving victims. Women who had previously raised concerns about Sowell were dismissed and discredited. Local director and producer Laura Paglin focuses the documentary on these women, living on the margins of society, dealing with the trauma of their experiences, and ultimately sharing their stories of survival. Paglin joins us for a discussion following the film on January 15, 2019.
"Alive & Well" follows the journey of seven people exploring the world of Huntington's Disease. As Mandy hopes to start a family, Charles returns from war zones and Trey continues his music career, all while questioning the future before them. Meanwhile, researcher Dr. Michael Hayden searches for a cure and young advocates like Courtney strive to raise awareness of this disease. This documentary reminds us all of our ability to persevere with strength, despite difficult challenges. Huntington's Disease Society of America will present the film on January 29, 2019.
"Deej" is the incredible portrayal of the life of DJ "Deej" Savarese. As a non-speaking autistic, DJ communicates using a text-to-voice synthesizer. Shot over a six-year period, this documentary follows the previously deemed incompetent DJ through high school and into his freshman year at Oberlin College. DJ and collaborator Robert Rooy present an unprecedented look at representation and inclusion as told by DJ himself. The film seeks to portray the idea that neurological diversity should not just be accepted, but celebrated. Peace by Piece Cleveland will present the film on February 12, 2019.
All documentary films will be shown at 6:30 p.m. in the Main Library Auditorium.
Read More on
Volume 14, Issue 24, Posted 3:48 PM, 12.18.2018