Pfffffffft: Reviews Of Recent Releases By Local Bands, Pt. 82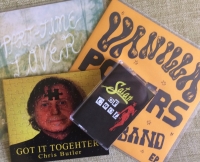 Chris Butler - Got It Togehter! - Future Fossil - 16 songs - CD
The title of this one is intentionally misspelled (it's a joke, you see), so please don't write in to say that the Lakewood Observer is a disgrace to the community or whatever. The first 12 songs on here are the album proper, plus four bonus tracks. I appreciate the sentiment of that, but if you're gonna do that, you need to also release a version that doesn't have bonus tracks, ya know? I mean, I guess I prefer that to Smog Veil leaving between 1 and 4 songs off of CDs for no reason at all other than to have "download exclusive tracks," but still. Some songs here are contemplative, some are kinda weird (I mean, Chris was in Tin Huey), and the majority of them are pretty catchy (I mean, Chris was in (and wrote the songs for) The Waitresses). I would put the overall genre down as "alternative rock" in a sort of quirky, '90s way that's not entirely mainstream but also not entirely abstract or whatever, especially given the interesting instrumentation. Some have a bit of a They Might Be Giants feel, the "I can't I can't I can't I can't" etc. part of "Late For Work" kinda reminds me of Cake…you see what I'm saying here? If you're familiar with Tin Huey– or actually, even if you just know The Waitresses– you know that Chris Butler writes with a definite sense of humor. I don't always find that sense of humor agreeing with me, (in the same way that sometimes I just can't get with The Tubes) but it's there and I'd rather have that than something that takes itself too seriously. My biggest complaint here is the length, which I touched on before with the bonus track thing, but actually just applies to the album proper as well. Mr. Butler posits on the inner cover that the problem with the CD format is that there isn't enough…space, which is a good visual joke, but I think sometimes the CD format (as in on the disc itself) has too much space. Oh well. The highlights (including "Songs For Guys," "Late For Work," and "Better Than I Ever Was" (though I actually like the bonus track demo better, funnily enough)) are pretty decent tunes. I don't know how often I'll pull this one out, but it's a perfectly okay listen and I know there are people who will love this kind of sense of humor far more than I, so there you go. One more thing: so, there should've been a version without the bonus tracks, like I said, and there also should've been a deluxe version with the bonus tracks and the cover for that should've been an actual puzzle. That would've been cool. 3.3/5
(chrisbutler1.bandcamp.com)
Part-Time Lover - Everything In Season - Blue Arrow Records - 3 songs - 7"
This is Part-Time Lover's second 7", following one last year on Just Because and two self-released tapes. Three tracks here of indie-psychedelic sounds, obviously with heavy '60s influence. That's 'heavy' as in 'a lot of,' not as in 'heavy rock.' Just wanted to clarify this. "Everything In Season" and "Magic Child" occupy the space on the A side, and both are pretty mellow, with pleasant instrumentation and pretty harmonies. There's a bit of fuzz guitar towards the end of the former and the song itself kinda reminds me of some other band. Not the Airplane, I don't think, but something along those lines. The part that Jason sings by himself on "Magic Child" is probably my favorite part of the song, even if it's perhaps the least '60s'd-out part. Both decent tunes, but the flip is my preferred side for sure. "Day Glow Lemon Yellow Colored Tongue," while not as rockin' as when I saw them do it live however long ago that was, is certainly a more upbeat one. Good lead guitar (at times it sounds a bit country even though there's some wah on it), good melody, good psychedelic bit at the end, just a good song all around. I would've made this the A side. Here's my big gripe, and maybe you saw this coming: it should rock a little bit more. I know they've got their vibes and whatever, and that's all well and good, but I'm looking for a bit more energy that I know they are capable of exhibiting. On the whole, this EP comes off a little more "indie rock" than their previous outings. That's not a complaint, merely an observation. It's a decent record, three pleasant tunes here and a worthy addition to their discography. 3.5/5
(bluearrowrecords.com)
Are you a local-ish band? Do you have a record out? Email vaguelythreatening@gmail.com or send it directly to Observer headquarters: The Lakewood Observer, c/o Buzz Kompier, 14900 Detroit Avenue, Suite 205, Lakewood, OH 44107.
Read More on Arts
Volume 15, Issue 1, Posted 3:50 PM, 12.18.2018