District to Renovate Taft for Curricular Expansion, Central Office Home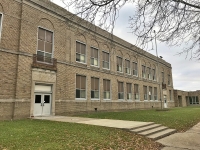 The Lakewood Board of Education has approved a proposal for the use of the former Taft Elementary School building that will address a number of space needs that were not included in the District's Ohio Facilities Construction Commission projects. The proposal will give the District space to expand programming that will result in students better prepared for academic success from preschool through college.
The proposal calls for a renovation of Taft, which first opened in 1927 and had additions built in 1957 and 1970. The space will be configured to accommodate the relocation of the Central Office staff from the Board building at 1470 Warren Road, the expansion of the District's preschool program and partnership program with higher education institutions.
The District already has partnerships with the University of Akron and Tri-C. District officials are currently in discussions with two other institutions of higher learning that wish to partner with the District. These partnerships, as well as income generated through rental of a new flexible meeting space, will bring new revenue to the District that will help offset the cost of the renovation, which will be funded over 20 years.
Details of the preschool curricular programming will be developed over the next year with input from staff. Plans call for the renovation to be complete in time for Central Office staff to move into the building in January 2020 and the preschool programming with the start of the 2020-2021 school year.
"This move will allow us to maximize a taxpayer-funded property that has been underutilized over the years since it closed as an elementary school while giving us the space needed to expand critical programming for our students and keep our Central Office staff in Board-owned property," said Superintendent Michael J. Barnes.
The curricular expansion fits into Superintendent Barnes' "PreK to 16" vision of offering the community educational options that enable students to go from PreK through college without having to leave the District.
The sale of the Board of Education properties on Warren Road to Liberty Development Company will continue to move forward and is expected to close in early 2019.
Read More on Schools
Volume 15, Issue 1, Posted 11:28 AM, 12.18.2018