The Rough & Tumble Perform Free Concert At Lakewood Public Library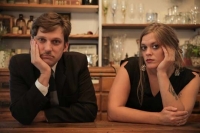 The Rough & Tumble and their camper return to Ohio this December, and Lakewood Public Library is happy to welcome them to our Main Library Auditorium concert stage at 2:00 p.m. on Sunday, December 9, 2018.
Pennsylvania-born Mallory Graham and California-born Scott Tyler met in New England in the autumn of 2007. The two started out as friends and quickly progressed to bandmates and then to married bandmates. Since 2015, Mallory and Scott have lived in their sixteen foot camper, crossing the United States as a folk-Americana duo, and weaving story and song together on the road.
After releasing three EPs, the duo released their full length recording, "We Made Ourselves a Home When We Didn't Know" in 2018. They have also recorded a soundtrack for the short film "Pieces and Pieces." The Rough & Tumble's concert takes place on Sunday, December 9, 2018 at 2:00 p.m. in the Main Library Auditorium. Their performance provides the inside scoop on what it's like to be a traveling folk band crossing the country. Admission is free and open to all.
Read More on Library
Volume 14, Issue 23, Posted 2:28 PM, 12.04.2018