Queen And King Honored At Light Up Lakewood 2018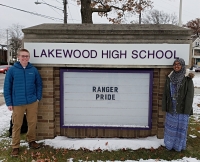 It's good to be queen and king of Lakewood's signature holiday community event. LakewoodAlive announces that Lakewood High School juniors Yusra Abdi and Tristan Rumsey were named Queen and King for Light Up Lakewood 2018 sponsored by First Federal Lakewood.
Students chosen for this honor have demonstrated their love for Lakewood through providing outstanding service to the community. In addition to reigning over the Light Up Lakewood Holiday Parade on December 1, Yusra and Tristan were both awarded $500 scholarships courtesy of Plantation Home in Downtown Lakewood. Both winners have agreed to provide at least 24 hours of service to the community during the coming year.
This is the seventh year that David Stein, owner of Plantation Home and Cotton, and president of the Downtown Lakewood Business Alliance, has sponsored the scholarship. Stein states, "It's an honor for us to encourage the youth of our community, and to thank them for their commitment to volunteerism."
Yusra and Tristan received their checks and sashes at Plantation Home on December 1, and were crowned by the 2017 Queen and King, Erin Black and Greg Medley, during the Lighting Ceremony at City Center Park as part of Light Up Lakewood 2018.
About Queen Yusra Abdi
Yusra's extensive involvement at LHS ranges from Help to Others (H2O) to track & field to the Facing History Girls Leadership Group. As a member of H2O, she has participated in Pumpkin Palooza and in furnishing meals to those in need through the Greater Cleveland Food Bank. Her experiences with the Facing History Girls Leadership Group have included writing letters to Iraqi refugees and participating in United Neighbors, an event that brought neighbors together to learn about diversity and refugees. Said Yusra in her application: "When I came to Lakewood from Somalia, I was very happy to be here, because I had never seen a beautiful place like this city. Lakewood is also a safe environment. At Lakewood High School, there are many students from all over the world. There are different cultures and languages. Even though we are different than other people who are here in America, our school accepts us for who we are."
About King Tristan Rumsey
Tristan is involved in numerous activities at LHS, including the Race and Diversity Club, the Academic Challenge Club and the Watters Science Seminar. In addition to playing on the varsity golf team, he serves as a Fresh Start/Ranger Day Ambassador, providing support for incoming freshman students. Tristan also participates in the Casey's Kids program by assisting with preparing and delivering programming to middle school students regarding drug safety. Said Tristan in his application: "From the day I was born, Lakewood has been my home. My family has lived here for over twenty years (sixteen, myself), and we love the abundance of opportunities that our town provides. Ranging from quality education, to a wide variety of entertainment options, to communal activities, Lakewood truly has it all. As a citizen of Lakewood, I find myself increasingly valuing the beauty of my hometown, its institutions, and its people. Lakewood has shaped my childhood and my present self, and continues to shape my future."
For more information regarding Light Up Lakewood 2018, visit LakewoodAlive.org/LightUpLakewood.
Light Up Lakewood is generously supported by the following sponsors:
Title Sponsor and Fireworks Sponsor:
First Federal Lakewood
Snowflake Sponsor:
City of Lakewood
Beer Garden Sponsor:
Roundstone Insurance
Lighting Sponsor:
Lakewood City Center
Photo Booth Sponsor:
Eric Lowrey and Chris Bergin, Berkshire Hathaway/Lucien Realty
Sparkle Sponsors:
Cleveland Clinic Lakewood Family Health Center | Convey360 | Lakewood Anglican Church
King and Queen Scholarship Sponsor:
Plantation Home

Jingle Sponsors:
Eric Lowrey, Berkshire Hathaway/Lucien Realty| Lakewood Church of the Ascension | Orangetheory Fitness
Holiday Train Sponsors:
Laskey Costello, LLC | Paisley Monkey
Twinkle Sponsors:
Champion Windows & Home Exteriors | Clark Wealth Management | Cox Communications
Dewey's Pizza | Dollar Bank | Giant Eagle | Renewal by Andersen | Storage Sense
Sound Sponsor:
MLSound Design, LLC
Host Venues:
Lakewood Baptist Church | Lakewood Masonic Temple | Lakewood Public Library
Matt Bixenstine
I am the Marketing & Development Manager for LakewoodAlive. I enjoy all things Lakewood, especially walking my basset hound through Madison Park.
Read More on Non-Profit
Volume 14, Issue 23, Posted 2:28 PM, 12.04.2018