Drumplay At Lakewood Public Library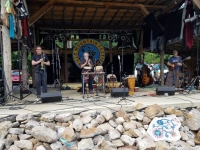 With the name Drumplay, percussion is expected. But this Cleveland ensemble, who recently celebrated their twenty-fifth anniversary, is so much more than drums. Yes, Drumplay has a drum kit, but there are also bongos, bells and conch shells, as well as vocals, trumpet and flugelhorn.
Join us on Sunday, December 16, 2018 at 2:00 p.m. for a musical treat when Drumplay takes the stage in the Main Library Auditorium.
Back in 1992, James Onysko was a member of the Samba Scouts, who broke up before they could play a gig they had booked. Onysko formed a new group, came up with a name and Drumplay started a decades-long adventure in world music, combining percussive elements with strings and horns. The group fuses jazz and folk with spoken word. Onysko describes their style as "Rhythmprovisation," where the goal is to make each performance unique.
Join Drumplay at Lakewood Public Library on December 16, 2018, for a unique Sunday with the Friends.
Read More on Library
Volume 14, Issue 23, Posted 2:28 PM, 12.04.2018