Women In History Presents Annie Sullivan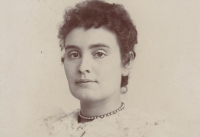 The child of Irish immigrants, blind and abandoned in an orphanage by an alcoholic father, Annie Sullivan did not have an auspicious start in life. However, many people know her as the Miracle Worker who taught Helen Keller to read and write. How did she achieve such success?
Find out more about this woman's remarkable life on Sunday, November 25, 2018 at 2:00 p.m. in the Main Library Auditorium when Women in History presents the life of Annie Sullivan in a portrayal by Anne McEvoy.
The daughter of Irish immigrant farmers, Annie Sullivan suffered poverty, physical abuse and near-blindness from trachoma in her young life. After her mother died, Anne's father abandoned his children to an orphanage, where her brother died shortly thereafter. Despite this harsh life, so deep was her desire for education, Sullivan convinced the state to send her to the Perkins Institute for the Blind, where she graduated as valedictorian in 1886. Soon she began teaching the seven-year-old Helen Keller. Sullivan's great success with this brilliant girl, who was both blind and deaf, brought them international fame and recognition. Sullivan became Helen Keller's lifelong companion.
The Library performance will feature Anne McEvoy, dressed in period costume, delivering a monologue as Annie Sullivan, followed by a question and answer session. Women in History was founded in 1991 in Lakewood by a group of friends who felt a responsibility to tell women's stories. Character research is extensive, and authentic vintage clothing is used when possible. Even hairdos are replicated from the appropriate era, styled by a specialist in historic hair design.
Join us at Lakewood Main Library on November 25, 2018 for an enlightening and entertaining Sunday with the Friends performance.
Read More on Library
Volume 14, Issue 22, Posted 4:01 PM, 11.20.2018