Special Holiday Performance Of Charpentier's Midnight Mass On December 22 At Lakewood Congregational Church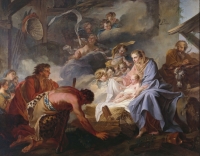 Acclaimed early music ensemble Les Délices (Debra Nagy, director) and Northeast Ohio's premiere chamber choir Quire Cleveland (Jay White, artistic director) will bring Lakewood residents a musical alternative for the holiday with a performance of Charpentier's Midnight Mass on Saturday, December 22 at 8pm at Lakewood Congregational Church (1375 W Clifton Blvd, Lakewood).
French carols, known as noels, are at the core of this beautiful and jubilant concert led by guest conductor Eric Milnes. In addition to Charpentier's beloved Midnight Mass, Quire & Les Délices will present Charpentier's rarely-heard Dialogue between the Angels and the Shepherds highlighting vocal soloists drawn from the choir. Les Délices' expanded ensemble of oboes, recorders, bassoon, and strings will perform brilliantly virtuosic variations on noels by Michel Corrette and Quire will also offer a selection of joyous carols performed a cappella.
Single Tickets ($25-$35 advanced sales, $30 at the door) are available at www.lesdelices.org or by calling (216)302-8404. Student and Senior Tickets available at the door.
Carol Lee Iott
General Manager for Les Delices, an early music ensemble that performs at Lakewood Congregational Church
Read More on Arts
Volume 14, Issue 22, Posted 4:01 PM, 11.20.2018