District Teams With Kids' Book Bank With Bin At LHS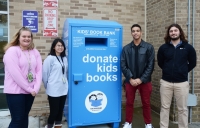 Gently used children's books that might have been thrown out will now have a second life thanks to the Lakewood Schools' new partnership with the Cleveland Kids' Book Bank.
The Kids' Book Bank has provided a large steel bin for the collection of children's books from the community. The bin is located in front of the Lakewood High School cafeteria at the east end of the building.
"We distribute tens of thousands of books every month and the books the District collects are much needed," said Judy Payne, co-founder and executive director of the Cleveland Kids' Book Bank. "We are so grateful Lakewood Schools jumped on board with this idea without hesitation."
The idea of the partnership is that the school district hosts the bin, the community donates gently used children's books, and volunteers from Help to Others (H2O) empty the bins, box the books, and deliver them to the Kids' Book Bank, which then gets them to kids in need through their network of partner organizations. "Not only do the disadvantaged kids who receive the books benefit, but there is also a great service learning opportunity here for students who participate," said Payne.
Added Teaching and Learning Coordinator Christine Foote, who helped facilitate the partnership: "The District is excited to partner with the Cleveland Kids' Book Bank as a way to give back to the organization and to the community. Lakewood students recently benefited from the generosity of the United Way and the Cleveland Kids' Book Bank with the creation of the Harrison Reading Room. The book bin located at Lakewood High School will offer everyone in our community the chance to keep this gift of reading alive with children in Cuyahoga County."
Why Books Matter
Studies show that being read to as a child and having books in the home are the two most important indicators of future academic success.
Two-thirds of low-income families do not own a single children's book.
Early access to books is critical, and the Kids' Book Bank gets books into the hands of children through:

WIC (Women, Infants and Children) where mothers of 18,000 children ages 5 and younger receive books when they meet with WIC nutrition counselors.
60,000 students in grades K-8 in the Cleveland Metropolitan School District and seven other districts.
pediatricians, schools, tutors, churches, libraries, food pantries, and more.
To learn more about the Kids' Book Bank, visit www.kidsbookbank.org.
Read More on
Volume 14, Issue 22, Posted 4:01 PM, 11.20.2018