District Holds Day Devoted To Professional Development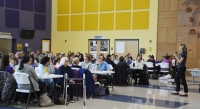 While Lakewood City Schools students enjoyed a day off of school on November 6, the entire staff was hard at work striving to improve their knowledge and skills whether they be for the classroom, the office or any other area that supports our students.
Each year the District sets aside two full days, in addition to ongoing opportunities throughout the year, devoted to professional development. The PD day had an offering of 36 morning sessions for staff members to select which lasted either 90 or 180 minutes. The classes are led by teachers, administrators and classified staff members with the topics chosen by recommendations from the staff or proposed by the presenter.
Some examples of sessions that were offered were:
Mental Health First Aid
Social Media for Educators
Celebrating Lakewood's Cultural Diversity
Perfectionism of Gifted Students
Understanding & Managing Trauma in the Classroom
Math Techbook Collaboration
Google Drive and Apps
In the afternoon, staff members worked at their buildings in grade-level, department or building-wide sessions. According to a staff survey, 98% of participants found the day very satisfactory, satisfactory or somewhat satisfactory.
Lakewood High School teacher Lisa Shaffer-Gill was grateful for the opportunity. "Our professional development needs between levels, subjects and buildings can vary a lot. Being able to tailor our PD to our specific classroom and student needs makes the experience more relevant. As teachers we know that meeting students where they are is critically important. The same is true for adult learners. We had a lot of options at our most recent PD, and good feedback about a productive day."
Read More on
Volume 14, Issue 22, Posted 4:01 PM, 11.20.2018