LHS Juniors Participating In First Ring Leadership Academy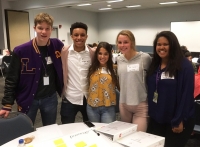 On October 19, five Lakewood High students and teacher mentors Gray Cooper and Aimee Guzowski traveled to the Wolstein Center in downtown Cleveland for the first session of the First Ring Student Leadership Academy, which is part of the First Ring Schools Collaborative. Participating for Lakewood are juniors, Christopher Brown, Ava Clause, Autumn Cruz, Will Holden, and Aziza Mohamed.
The academy focuses on building community awareness and leadership through Youth Participatory Action Research, a research methodology that empowers youth by focusing on the issues important to them and by emphasizing student-adult collaboration in developing solutions. Participating students from each First Ring high school select an issue at their school and conduct research on its causes and possible solutions, guided by adult mentors from their district who are also participating in the adult First Ring Leadership Academy.
At the first session, each district's team of student leaders selected an issue at their school to investigate and try to help solve. Working in pairs and guided by their teacher mentors, students analyzed the causes and effects of the issue. Lakewood has chosen "The Dynamics of Healthy Romantic Relationships" as its topic.
At the second session, to be held December 14 at Tri-C's Metro campus, student leaders and their mentors will learn about different forms of data collection used in action research. Teams will develop a research plan for investigating their chosen issue and will create the tools they will need to gather their data.
Student leaders will be regularly asked to complete assignments between sessions and, before the third session and with the guidance of their mentors, will use the tools they developed to gather data on their chosen issue. Teams will bring their data to the third session, to be held February 15 at Baldwin-Wallace University, where they will learn to analyze their results. With their mentors, student leaders will review their results to identify causes, effects and possible solutions. Teams will learn how to develop action plans for sharing their results and recommending solutions.
At their final session on May 17, the students will present their results and recommendations to the First Ring superintendents.
After the first session, mentor and teacher Gray Cooper had only good things to say: "Aimee Guzowski and I witness this Lakewood City Schools' group of young leaders in action. They are thoughtful. They are wise. They are motivated. If the future belongs to them, the future looks bright."
Read More on Schools
Volume 14, Issue 21, Posted 3:08 PM, 11.07.2018