A Special Veteran's Day Performance By The Singing Angels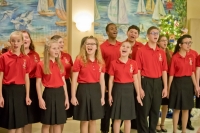 The Singing Angels is a Cleveland institution that has been bringing together some of the most beautiful young voices in Ohio since 1964. The group will be performing at Lakewood Public Library in celebration of Veteran's Day and the millions of men and women who have served our nation. The concert takes place on Sunday, November 11, 2018 at 2:00 p.m. in the Main Library Lower Level Auditorium.
The hour long show will feature patriotic favorites such as the Battle Hymn of the Republic, God Bless America and the Armed Forces Salute to honor the sacrifices of our fellow Americans.
Honoring our Veterans is just one example from an impressive list of charitable efforts that have become an integral part of the Singing Angels organization. Their benefit performances and community outreach activities raise money and goods for hunger centers, hospitals, the Salvation Army, public schools, relief efforts and food drives. Their voices bring cheer to many, including residents of nursing homes and senior centers.
This special concert with the Singing Angels is part of our Sunday with the Friends programming. The Friends of Lakewood Library is a small group of volunteers who provide funding for events such as these with the proceeds from their ever-popular and always affordable book sales.
Read More on Library
Volume 14, Issue 21, Posted 3:08 PM, 11.07.2018