Rangers Wrap Up Season on Senior Night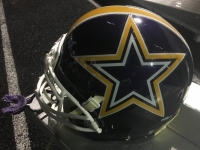 The LHS football season ended Friday night with a 56-13 home loss to North Ridgeville. Lakewood running back DJ Jackson, who was honored along with all the senior players before the game, had 194 yards and two touchdowns in the contest. The senior class persevered a turbulent era at LHS, having three different head coaches over the past three seasons.
The game was preceded by a Senior Night ceremony to recognize LHS's fall sports athletes. Members of the football, golf, cross country, soccer, and girls' tennis teams were introduced. Senior members of the LHS marching band, making their final appearance at First Federal Lakewood Stadium, performed an emotional pregame rendition of the alma mater. Conditions were cold and damp, as intermittent rain fell throughout the evening.
North Ridgeville quickly took command of the game, scoring on their first offensive possession. Senior running back Cade Riley ran seven yards for a TD less than 30 seconds into the game. The lead ballooned to 35-0 by the end of the first quarter, as Lakewood struggled on both sides of the ball. North Ridgeville built a 56-0 by the half, triggering the OHSAA "running clock" rule.
Lakewood scored on its first possession of the second half, going 75 yards on six plays for a touchdown. DJ Jackson capped the drive with a five yard touchdown run. The biggest play of the drive was a 42 yard pass from junior quarterback Albert Wilhelmy to sophomore Evan Hampton. Senior kicker Justin Crislip then added the extra point. Lakewood scored again on the next possession, as Jackson broke an 85 yard touchdown run to make the final score 56-13.
Ranger head coach Tom Thome spoke highly of his senior class. "I wish I had every one of you for one more year" he told them after the game, "I'm proud to be your coach." "I was their third head coach in three years," he explained, "they gave me everything they had." Thome saw progress in his team throughout the season, and is optimistic about the program's future. He believes that the program has the facilities and support to be successful in the long term. The team will benefit from stability this offseason, something it has lacked in recent years.
Mike Deneen
Mike Deneen has extensive experience covering sports and community stories for the Lakewood Observer. Mike has been a Senior Industry Analyst for the Freedonia Group in Cleveland, Ohio, since 1998. He has appeared on CNBC's Closing Bell, NPR's MarketPlace and has been quoted multiple times in The Wall Street Journal. He has made multiple guest appearances on ESPN Cleveland radio. Mike also writes for Inside Northwestern, a website that covers Northwestern Wildcat Athletics. You can reach him on Twitter at @MikeDeneen1
Read More on Sports
Volume 14, Issue 21, Posted 9:55 AM, 10.27.2018