Connecting For Kids To Honor Kind Kid; Nominations Now Being Accepted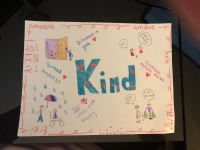 Do you know a child who goes above and beyond to help others? If so, nominate him or her for the Connecting for Kids Kind Kid Award.
The Kind Kid Award is given to a child under 13 years of age who demonstrates kindness and compassion to peers. The nomination should include specific examples of acts of kindness performed by the nominee.
The nomination deadline is Thursday, November 1, 2018. To nominate a child, please fill out the online form found on the organization's website at https://connectingforkids.org/Board-Awards. Every child nominated will receive a certificate to reinforce his or her actions.
The child selected for the Kind Kid Award will be publicly honored at the Connecting for Kids Winter Fundraiser on Saturday, February 9, 2019.
Lorilynn Wolf
Lorilynn Wolf is the Communications Director for Connecting for Kids.
Read More on Non-Profit
Volume 14, Issue 20, Posted 2:25 PM, 10.16.2018