LHS Teacher's Creatures Project Keeps Students Engaged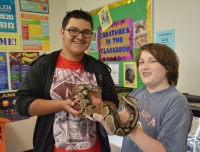 All teachers strive daily to find a way to keep students engaged in the classroom. At Lakewood High, special education teacher Corey Streets has developed a pet project that has his students excited to come into class every day.
In the corner of Streets' classroom a bevy of reptiles and a rat named Ralph scurry around their cage. They are all part of Streets' C.R.E.A.T.U.R.E.S. in the Classroom project where the aim is to Cultivate Responsibility And Empathy Through Unique, Real and Engaging Studies.
Part of Streets' job is to teach his students life skills that will help them succeed once they leave high school and have to navigate the adult world. He's found that the animals in the classroom have been a great tool for teaching such skills. Caring for the three lizards, two ball pythons and Ralph the Rat falls on the hands of the students.
"They are learning real world skills" such as following routines, completing tasks and taking responsibility, Streets said. The students' jobs include preparing food and water for the animals and cleaning cages. Streets is also able to teach some of his science curriculum topics such as biomes and ecosystems using the animals as visual examples. A bonus, said Streets, is that the students have formed bonds with the animals. "It is really motivating and calming for the kids," he said.
Streets has had a passion for reptiles and other pets since he was a boy. He's had a fish tank and a lizard in his classroom for a few years, but with the help of a Lakewood Rangers Education Foundation grant, he was able to expand his creature collection. The students will be using the Ranger Hub makerspace and their 3-D printers to create toys for the creatures as well.
Streets is not keeping his reptile hobby to just his classroom. He recently started Lakewood High's first Herpetology Club where any student can enjoy learning about the reptile world.
Read More on Schools
Volume 14, Issue 20, Posted 2:23 PM, 10.02.2018