Come Support Lakewood Volleyball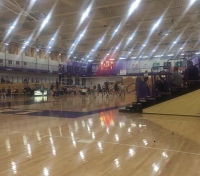 Are you looking for something to do for Sweetest Day weekend?
Lakewood Rangers Volleyball is hosting a fun-filled evening at Vosh Lakewood on Friday, October 19, 2018. The event runs from 6:00 - 8:00 pm.
Tickets are just $25 per person and include complimentary valet parking, appetizers, one drink ticket, raffle baskets, sideboards, music, dancing and fun!
Stay after the event for the local band, SHOUT, as they perform music ranging from Big Band, R&B, Rock, Motown, 70s Disco, Funk, 80s Pop to today's current hits.
Whether you are a current parent of a middle or high school volleyball player or if you're interested in the program for the future, everyone is invited to meet the
Lakewood Volleyball coaches, parents, friends and neighbors as we raise monies for the entire program.
Visit the Lakewood webpage, lhsvolleyball.org, or follow us on Facebook at Lakewood High School Volleyball for more information or to purchase tickets.
Tricia Dent
Tricia Dent, Lakewood resident and parent volunteer.
Read More on Sports
Volume 14, Issue 19, Posted 2:26 PM, 10.02.2018