First Concert of West Side Chamber Music Group's 60th Season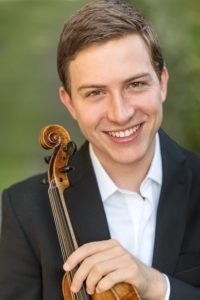 The Rocky River Chamber Music Society will be celebrating its 60th anniversary all season long, and everyone is invited! The kickoff concert, on Monday, October 1, at 7:30 p.m. at West Shore Unitarian Universalist Church, 20401 Hilliard Boulevard in Rocky River, will applaud the extraordinary young talent in our region's distinguished music schools. The Society will present an ensemble comprised of violinist James Thompson, a Cleveland native and Artist Diploma student at the Cleveland Institute of Music, along with his Cleveland Institute of Music classmates cellist Anna Hurt and pianist Sarah Ha. This ensemble will perform works by Mozart and Shostakovich.
James Thompson has been active in Cleveland's thriving music community for eight years including performances with The Cleveland Orchestra, the Cleveland Institute of Music Orchestra, the Cleveland Pops, the Cleveland Philharmonic, and The Cleveland Orchestra Youth Orchestra. He has also been invited to perform in several high profile chamber music festivals across the country. Cellist Anna Hurt has performed extensively across the nation, and holds the position of Principal Cellist at the Suburban Symphony Orchestra in Cleveland. She is also a registered Suzuki teacher. Pianist Sarah Ha is a native of South Korea and has performed in her home country as well as Brazil, New York, Ukraine, and Italy. She has performed in master classes with such renowned pianists as Leon Fleisher Jahja Ling, and Jaime Laredo.
In this its 60th anniversary season, Rocky River Chamber Music Society is still firmly committed to presenting concerts to Northeast Ohio audiences at no admission charge. All are welcome. For further information visit the RRCMS website at www.rrcms.org, or follow RRCMS on Facebook and Twitter.
October 1st Program:
Wolfgang Amadeus Mozart, Piano Trio in C major, K. 548
Dmitri Shostakovich, Piano Trio No. 2 in E minor
Dmitri Shostakovich, Five Pieces for Trio Violins and Piano, arr. Sarah Ha
Carol Jacobs
Carol Jacobs is a retired archivist, curator, and librarian who currently serves on the board of the Rocky River Chamber Music Society.
Read More on Arts
Volume 14, Issue 18, Posted 10:34 AM, 09.18.2018