Factual Films: Fall Documentaries At Lakewood Public Library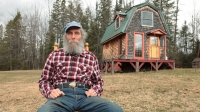 Documentary films are known for in-depth storytelling and artful cinematography. From small businesses to ocean voyages, broaden your concept of film with these upcoming documentary screenings at the library.
"Burt's Buzz" tells the story of Burt Shavitz, the face of Burt's Bees, Inc. Shavitz is a reluctant spokesman and rural eccentric whose business grew from selling honey out of his truck to a billion dollar natural product line. Local business Lion & Blue will present the film on September 25, 2018.
"Her Mother's Daughter" chronicles the daily lives of the resilient O'Donnell family. With three generations of O'Donnells affected by Huntington's Disease, this documentary is a snapshot of a family living against all odds. Huntington's Disease Society of America will present the film on October 9, 2018.
"Manry at Sea – In the Wake of a Dream" focuses on Robert Manry, a Clevelander who made a solo voyage across the Atlantic Ocean in a hand-made boat named Tinkerbelle. Manry at Sea premiered at the 2018 Cleveland International Film Festival and will be presented by Western Reserve Historical Society on October 16, 2018.
"Free CeCe!" is the eye-opening documentary on CeCe McDonald, an African American, bisexual transgender woman who was sentenced to forty-one months in a male penitentiary after a discriminatory altercation. American Civil Liberties Union of Ohio will present the film on November 13, 2018.
"Intelligent Lives" stars three pioneering young American adults with intellectual disabilities. As Micah, Naieer and Naomie navigate high school, college, and the workforce, they challenge perceptions of intelligence. Featured at the 2018 Cleveland International Film Festival, this film will be presented by The Up Side of Downs on November 27, 2018.
"The Mask You Live In" showcases the pitfalls of cultural masculinity and its effects on boys and young men. Gender stereotypes create a maze of identity issues as young men mature. This film will be presented by Empowering Youth, Exploring Justice on December 4, 2018.
All documentary films will be shown on Tuesdays at 6:30 p.m. in the Main Library Auditorium.
Read More on Library
Volume 14, Issue 18, Posted 10:34 AM, 09.18.2018