Burning River Baroque's "Destructive Desires" Inspires Thought-Provoking Dialogue About Issues Related To #MeToo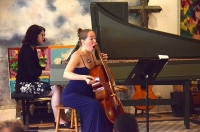 Burning River Baroque opens their 2018-2019 season with "Destructive Desires," an edgy program that challenges audience members to engage with issues that have been brought to the forefront of cultural awareness by the #MeToo movement. It also touches on the profound reach of the movement and the resulting conversations about consent, the misuse of power and the fact that it has provided society with the opportunity to explore new channels of communication and redefine boundaries in all types of relationships.
The program pairs stories and themes from Biblical passages and Greek mythology with music by 17th and 18th-century composers.
"We intend to demonstrate various forms of power imbalance and lack of consent in stories old enough to be in our collective unconscious," Paula Maust said.
Praised by the Boston Musical Intelligencer as "a group that left an indelible imprint on my psyche," and recognized numerous times by Cleveland Classical for their innovative and drama-infused performances, co-directors Paula Maust and Malina Rauschenfels create programs that demonstrate the significant connections between past and contemporary issues.
Audiences appreciate the group's engaging verbal and musical communication as well as their ability to present complicated issues in a way that inspires critical thought and dialogue without telling people what to think.
"We see change as starting with the acknowledgement of the problematic nature of these timeless stories and aim to initiate meaningful conversations around these topics with our program 'Destructive Desires'," Rauschenfels said.
You can experience "Destructive Desires" October 21 at venues at Lakewood Congregational Church (1375 W Clifton Blvd). All proceeds will benefit YWCA Greater Cleveland whose mission is to eliminate racism, empower women, stand up for social justice, help families, and strengthen communities.
"We were particularly drawn to the YWCA's Norma Herr Women's Center and the long-standing work they have done to support women who have experienced trauma and abuse, " Rauschenfels said.
Founded in 2012, Burning River Baroque's ensemble's name connotes the fiery passion they bring to their performances, connects them to Cleveland's history, and exemplifies their desire to promote social change through music. When the Cuyahoga River burned in 1969, it was the catalyst for broad environmental policy reform.
Music has long offered a space for outsiders to find a voice, and classical composers and musicians have often been at the forefront of political and social change. The group has performed extensively throughout Northeast Ohio, the greater Midwest, Boston, New York, and Berkeley.
For more information about the ensemble visit burning-river-baroque.org.
*****
Malina Rauschenfels
Malina Rauschenfels is a vocalist, cellist and baroque violinist, as well as co-director of Burning River Baroque. Praised by the Boston Musical Intelligencer as "spellbinding" and for her "powerful clarion tones and crisp articulation," she has also been commended by clevelandclassical.com for her "exceptional vocal range, strong acting abilities, gripping theatricality, and commanding gestures, both musical and physical." Equally comfortable with early music and contemporary music, she has recorded CDs with The Newberry Consort, Duo Mignarda, Quire Cleveland, Marble Sanctuary Choir and Toby Twining Music. Additionally, she performs with El Fuego, North Carolina Baroque Orchestra, Contrapunctus, and Trinity Chamber Singers, and recently won the Waterloo Region Contemporary Music Sessions' "Contemporary Performance Prize" for performing two pieces for singing cellist.
Read More on Arts
Volume 14, Issue 18, Posted 10:34 AM, 09.18.2018