Templar: The Superfine Small Car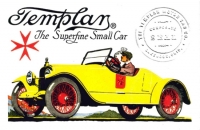 Lakewood was a busy place 100 years ago. In the first half of 1918, 131 permits for the building of private homes were issued. Edgewater Drive was extended from W117th Street to Cove Ave. War gardens were prolific. Lakewood Baptist Church, at Lincoln and Detroit, and Lakewood Presbyterian Church, at Marlowe and Detroit, were dedicated. Three streetcar lines were running through Lakewood. Plans for a new high school were being developed. And Templar cars were being assembled in a brand new factory on Athens Ave.
Several facts make the building of Templar cars significant. First and foremost, it was the only car ever assembled in Lakewood. Various carmakers were located in the Cleveland area over the years, but only the Templar was produced in Lakewood. The Vitalic engine for the Templar was manufactured at the factory, with all other parts of the car being manufactured in other places. The cars were assembled at the factory on Athens Ave. and shipped to dealerships all over the United States.
The Templar was designed to be a car of distinction. It had many fine features, such as 27 coats of paint, its own camera and storage case, a tire pump and gauge, and windshield wipers. And, as was to be expected, it was expensive. But even so, with all these fine features, it would seem these cars would have been in high demand and production would have been booming.
The Lakewood Historical Society and the Templar Motors Factory Display have joined forces to give the community a chance to see this amazing piece of Lakewood history first-hand. See some of the unique features, read about the people involved in this venture, find out why production ended in 1924, having produced only 6000 cars.
On Saturday, September 8, the Templar Motors Factory Display will be open to the public from 10 a.m. – noon, with 9 Templar cars available for viewing. The Factory Display also includes a great collection of memorabilia, relating to the Templar cars. Visitors to the Templar Display, located in the Lake Erie Building, 13000 Athens Ave., should park in the west parking lot and enter by the Central Stairway. Tour guides will be available to direct visitors.
The Templar Motors Factory Display will again be open to the public on October 6, 10 a.m. - noon.
Norine Prim
As First Vice President of the Lakewood Historical Society, I will be submitting info pertinent to the Historical Society for publication.
Read More on Features
Volume 14, Issue 17, Posted 4:23 PM, 09.04.2018