Join The Discussion On World Affairs At Lakewood Public Library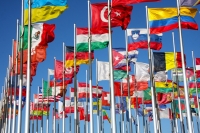 Staying informed on world affairs is easier than ever due to the torrent of daily news. Join together with friends, neighbors and experts for Great Decisions, America's largest discussion program on world affairs. Every year the Foreign Policy Association highlights eight critical foreign policy challenges facing the United States, which serve as the topic for the Great Decisions program. Each discussion will focus on one of the policy challenges, featuring a thirty minute video and an expert-led discussion.
This year's discussion series kicks off on Thursday, September 13, 2018 at 7:00 p.m. in the Main Library Auditorium. Roby Simons, PhD, will lead a discussion on South Africa's Fragile Democracy. Simons is a professor of Urban Studies at Cleveland State University and was a 2005 Fulbright Scholar at Wits University in Johannesburg, South Africa. Since the end of apartheid in 1994, South Africa has been governed by the African National Congress (ANC). The recent election of President Cyril Ramaphosa promised stimulated economic growth and prosperity, but the country still faces an uncertain economic and democratic future.
Discussions will take place throughout the fall and winter months and topics include Media and Foreign Policy (September 27, 2018), China and America (October 11, 2018), Turkey: a Partner in Crisis (October 25, 2018), The Waning of Pax Americana (January 10, 2019), U.S. Global Engagement and the Military (January 24, 2019), Russia's Foreign Policy (February 14, 2019) and Global Health: Progress and Challenges (February 28, 2019).
All Great Decisions discussions take place on Thursday evenings at 7:00 p.m. in the Main Library Auditorium. Readings will be available at the Main Library circulation desk one week prior to the discussion. Admission is free and open to all. Bring your thoughts and join the conversation.
Read More on Library
Volume 14, Issue 17, Posted 4:23 PM, 09.04.2018