Adventure Guides Gear Up For New Members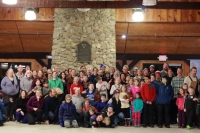 The Lakewood YMCA Adventure Guides prepare to inaugurate another season of family fun and exploration. Known as Lake Trail Nation (LTN), we are a group of families of elementary-school aged children committed to fostering a spirit of cooperation, friendship, and of course adventure between our children and the world. We sponsor activities including tent camping, local gatherings like holiday parties, bowling, game night, and a pinewood derby. An annual winter cabin camp-out at Camp Fitch is always a highlight, as well as a summer event at Camp Y-Noah. LTN also marches in the Fourth of July Parade and participates in a variety of community service activities like food drives and a lakeshore cleanup.
The larger LTN divides into smaller groups called circles, by age and gender, to participate in monthly activities. Each circle organizes its own activities with input from its members, and might include outdoor activities and community service events. The goal of LTN is expressed by its motto: "Friends forever." We hope to build relationships, foster community involvement, and work together with our children to create memories and values in our own families and those of our friends for years to come.
Please join us for our Open Registration information nights on September 12 and September 13, from 6 to 7:30 p.m. at the Lakewood YMCA. For registration information, visit http://www.laketrailnation.com or contact LTNAGYMCA@gmail.com. Our induction ceremony, kicked off by a potluck meal, featuring a bonfire, and a camp-out in the Bradley Woods Reservation of the Metroparks will be held on September 22.
LTN aims to give parents a chance to have fun with their kids and for kids and parents to get to know each other while enjoying activities together. Rather than drop off the kids and head home, we look for an adventure with them. ALL families of every type and configuration are welcome in the Lake Trail Nation, so long as you are ready to have a great time together by spending the most valuable resource we have, time, on your children.
Greg Gipson
I am an attorney living in Lakewood.
Read More on
Volume 14, Issue 17, Posted 4:23 PM, 09.04.2018