Sunday With The Friends Welcome The Scimitars Swing Band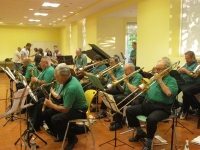 Sometimes when everything is at its very worst, the only reasonable thing to do is throw a big party. Headlines in the 30's and 40's were grim, but as Americans were slogging through the Great Depression and World War II, a killer diller dance party began sweeping the nation. The music behind the new craze was an up-tempo jazz called Swing.
The Scimitars Swing Band specializes in the music of the Big Band Era and is performing at Lakewood Public Library as part of our Sunday With The Friends program on Sunday, September 9, 2018. The party starts at 2:00 p.m. in the Main Library Multipurpose Room.
The Scimitars Swing Band is part of the Al Koran Shrine band tradition that began in 1905. Cleveland's Al Koran is the 4th oldest Shrine center in North America.
The Shriners are beloved by all the children and families they have helped through their famous Shriners Hospitals for Children. The Shriners boast 22 non-profit children's hospitals that never turn away a child in need with orthopedic conditions, burns, spinal cord injuries, or cleft lips and palates for a lack of funds. Thirty-two Learning Centers for Children are also supported by the Shriners. The Scimitars Swing Band is a proud part of this remarkable humanitarian tradition.
When they aren't out doing good deeds, this talented jazz orchestra is bringing down the house with the music of Glenn Miller, Woody Herman, and Duke Ellington. So be sure to swing by the Main Library on September 9, 2018. It's gonna be a gas.
Read More on Library
Volume 14, Issue 16, Posted 7:15 PM, 08.21.2018