Lakewood Historical Society Partners with Chef Jill Vedaa for Dinner Raffle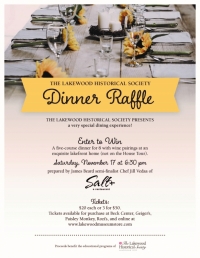 On a crisp November evening in an elegant lakefront home, it's you and seven guests experiencing a spectacular five-course dinner complemented by superbly paired wines, masterfully prepared by James Beard semi-finalist Chef Jill Vedaa from Salt + Restaurant.
Hey, a foodie can dream, can't they?
But this is one culinary fantasy that can come true by purchasing a ticket to the Lakewood Historical Society's Dinner Raffle. Tickets, just $20 each or three for $50, are on sale now at Beck Center, Rozi's, Paisley Monkey or on line at www.lakewoodmuseumstore.com.
The Raffle is part of the fundraising effort of the "Come Home to Lakewood" House Tour, to be held Sunday, September 9th. You can also purchase raffle tickets on tour day at the Society's Nicholson House from noon until 6 p.m. (house tour ticket purchase not required) when the winning ticket will be drawn.
Funds raised by the Tour support the Lakewood Historical Society's mission of providing educational programming for all ages.
Chef Vedaa and her small plate dining concept has been making a big statement among national culinary circles, helping to secure Lakewood's status as a top dining destination. As if her carefully crafted prize menu isn't enough, you'll be dining in of one of Lakewood's most treasured lakefront homes, a mystery destination The Lakewood Historical Society is keeping secret. You won't find this home on the house tour so keep guessing where along Lakewood's five or so miles of shoreline dinner will be served.
Don't miss your chance to make a culinary dream come true, all while you support The Lakewood Historical Society.
Read More on Features
Volume 14, Issue 16, Posted 7:15 PM, 08.21.2018