Women In History: Julia Boggs Dent Grant Visits Lakewood Public Library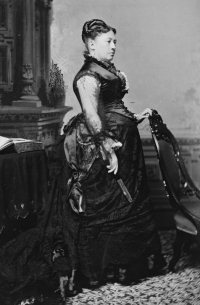 Julia Dent was the daughter of a wealthy plantation owner. When she fell in love with a soldier earning a soldier's salary in 1844, the only people happy about it were the two sweethearts. The bride's mother and father thought the marriage was beneath her and the groom's parents refused to attend the wedding at the home of a slave owner. It was a rocky start, but the drama was only beginning for the wife of Ulysses S. Grant.
Women in History is bringing Julia Boggs Dent Grant to the Lakewood Public Library stage on Sunday, August 19, 2018 for a dramatic re-creation of a woman caught up in a tumultuous period of our nation's past. This Sunday With The Friends program will begin at 2:00 p.m. and be held in the Main Library Lower Level Auditorium.
A non-profit organization formed in Lakewood in 1991, Women in History hopes to educate everyone about the amazing legacies of our female ancestors through engaging live performances. The group boasts a talented troupe of actresses dedicated to extensive research, including authentic clothing and hairstyles, on the lives of over 100 notable women in U.S. history. In her latest incarnation, Julia Boggs Dent Grant will be portrayed by Anne McEvoy.
Read More on Library
Volume 14, Issue 15, Posted 1:35 PM, 08.07.2018