Lookin' For It: Reviews Of Recent Releases By Local Bands, Pt. 75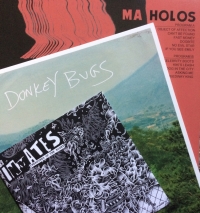 Disclaimer: Record reviews are a tricky business. It's one thing to enjoy music, but to pick out what you like (or dislike) about it? That being said, if I review your thing and I didn't like something, don't feel too bad. My opinion doesn't matter all that much.
Donkey Bugs - Ancient Chinese Secrets - Fish Records - 8 songs - LP
Another Cleveland group assimilated into the Spotted Race, I see. Donkey Bugs is a project of Haley Himiko and Steve Peffer, which of course might make someone go, "oh, so it's a Pleasure Leftists side project." Well, I guess, but I don't know if this will appeal to the average everyday PL fan so much as it will fans of Steve's other stuff. You might be shocked to learn that this sounds quite a bit like Factorymen but with Haley singing. All drum machine and repetitive riffs and noise and weirdness. It's a good record. I guess the quickest, most general way of calling it would be to say it's mostly post-punk, but that doesn't really mean that much. In the same way that Factorymen can, it treads a fine line between really goofy and really creepy. Steve really brings it on the guitar on "Hammer Jammer," unless that's a really distorted synth. The "stop the hammering!" bit at the end is pretty good, too. "ABC's of Lust" is what it sounds like, and could probably be a hot funk/new wave hit in some alternate universe. "F is for…no, not that!" The vocal melody of "Isosceles" is somewhat haunting whereas in another context it might not be. "Men In High Heels" is a good punker, gets pretty upbeat and all that. "The Mystic" sounds suspiciously like it's just a sample of some other record…but that could never happen. I think they really saved the best for last with "The Example." It's a real good post-punker, almost reminds me of Gang Of Four in some way. The "movie! movie!" or whatever they're yelling at the end bit comes off almost like a tribute to the Flyin' Trichecos. A fine addition to the line of Steve Peffer stuff that includes Factorymen, Deutschland Jerky Rave, and "The Brutal Birthday." 4/5
(lumpyrecords.com)
Inmates - Creatures Of The Night - Noncommercial Records / No Patience Records - 6 songs - 7", download
An all new record from the all original Inmates. I think this is their first since 2014 (or maybe 2015, I can't remember when the self-titled LP came out) and the first with the original lineup since I don't know when. This record kind of finds Inmates going a bit metal on certain songs, like maybe Paul had some rejected Party Plates riffs that he offered up. Very positive sentiments throughout, especially in regards to the music scene and other bands: "you're all the same," "rehashed riffs imitation," "fake songs of protest"…and that's from three different songs. Continuing the trend towards metal, "Ronnie James Melnick" talks a lot about "the beast" and there are some demonic moments in "Creatures Of The Night," though I believe that it's actually just a person being described with some heavy imagery. The latter also features a screaming bit that sounds right out of a Breathilizör record. My favorite tune here has gotta be "I Believe I Can Die," which is pretty much a ripper. I remember when it was a Magic City song! Altogether, a solid EP here. Enough moments of the Inmates classic hardcore sound with some change in style in certain places. Great artwork by Nathan Ward as well, who I hear is ruining the scene and maybe even the entirety of art in general. 3.5/5
(feelitrecordshop.com / inmatesncr.bandcamp.com)
Ma Holos - Bee On A Rose - Quality Time Records - 11 songs - LP, download
I think this is Ma Holos 3rd full-length and their first to be released on the vinyl format (if anybody has a spare of that "Demonduction" tape, my email's at the bottom). It just might be their best yet. They've got Paul Maccarone at the board for this one, and I think he helps. I actually didn't mind the production on their previous stuff, really, I just think this is an improvement. They redo three of the four songs from the 7" and I like these versions way more. Ma Holos really seem to have hit a good spot here: they know how to set a mood, the performances are energetic, Marty Brass shreds, and these are catchy songs. They operate somewhere in the strange between-space that isn't quite garage rock and isn't quite proto-punk, with an added layer of psychedelic haze on many of the songs. I've heard the Mirrors comparisons several times now about this band and I've always kind of gone "oh, yeah, that makes sense, I suppose," but I think this record is the first time I've listened and actually gone, "oh, this does sound like Mirrors!" (especially on "If You See Emily"), though it's more like Mirrors through the filter of neo-garage. Is that enough of a reviewer-y statement for you? The opening three cuts are pretty unstoppable, and same with the first two on the second side, which is a good move to not come right in with the slower stuff. The fact that this includes a lyric sheet really highlights how trippy some of these songs are. I also like that not only do they reference other songs, but cite who originally wrote what they're referencing. That's a nice touch. Robert Joyce's vocal style is really on full display, at times very Joey Ramone-esque, not quite sneering but with that kind of energy, sometimes he's almost slipping into a British accent…it's good. I know I say it every time his name comes up, but Marty Brass really does shred here. The hooky leads he has on these songs add quite a lot. This lineup seems to be a good one altogether. Besides Robert and Marty, the rhythm section (Pat Richey and Joey Nix) does a good job as well. I think this whole record would be a good one to listen to on a late evening drive. 4/5
(qualitytimerecords.bandcamp.com, see the band or a local record store for the LP)
Are you a local-ish band? Do you have a record out? Email vaguelythreatening@gmail.com or send it directly to Observer headquarters: The Lakewood Observer, c/o Buzz Kompier, 14900 Detroit Avenue, Suite 205, Lakewood, OH 44107.
Read More on Arts
Volume 14, Issue 15, Posted 1:35 PM, 08.07.2018