Cleveland Dance Project's Summer Performance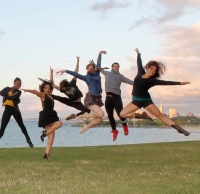 On Sunday, August 12, 2018, the Cleveland Dance Project (CDP) will take to the Main Library Auditorium's Stage.
CDP is a dance, choreography, and performance outlet for dancers aged eighteen and up who want to continue performing and/or choreographing. CDP's mission is "to provide a fun, yet professional, environment for dancers of ALL styles to come together as a community, to help us all find a balance between our work/home lives and following our passions, while allowing us the opportunity to showcase our creations together to our friends, family, and the greater Cleveland/Akron area." CDP explains their mission as follows: "We believe in making dance relatable to the community, embracing the talents of our local aspiring artists, and giving everyone a chance to come together to dance for Cleveland!"
CDP also offers workshops and master classes, which are open to ages 16 and up. Although classes are meant to challenge the intermediate to professional adult dancer, all levels are welcome to attend and learn a new style of dance. CDP's classes are held at various studios throughout Cleveland and Akron.
Anna Cerveny is the founder and director of Cleveland Dance Project. She began her dance training at the Royal School of Ballet at the age of seven and went on to receive her BS in Chemistry from Carnegie Mellon University and her Doctor of Physical Therapy from Columbia University. Jessica Bennett studied at the Canton Ballet for fourteen years and then completed a dual degree at Ohio State University with a Bachelors of Fine Arts in Modern Dance and a Bachelors of Art in Psychology.
The Cleveland Dance Project's performance takes place on Sunday, August 12, 2018 at 2:00 p.m. in the Main Library Auditorium as part of the Library's Sunday with the Friends series. Admission is free and open to all.
Read More on Library
Volume 14, Issue 15, Posted 1:35 PM, 08.07.2018