A Letter From Superintendent Barnes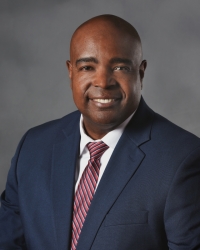 Dear Lakewood City Schools Students, Staff, Parents, and Lakewood Residents:
I would like to take this opportunity to tell you that I am honored to serve as your Superintendent of Schools. The Lakewood City School District is one of the finest districts in the nation. During my transition to Lakewood, I have learned of its focus on educational excellence, its warm and welcoming spirit, and its unwavering commitment to the children of this community.
I would also like to take this opportunity to tell you a little about my family. I have been married to my wonderful wife Laverne for 21 incredible years. Laverne and I have two daughters - Michaela, 20, and Mia, 18. Both will be college students beginning this fall. My wife and I are so very proud of them.
I truly believe in the value of education. Education is a fundamental necessity to the survival and growth of individuals, communities, states, nations, and the world. Education is a powerful variable that can transform the conscience of mankind. An educated individual, community, state, nation, and world is one that respects and values diversity, promotes and endorses collaboration, and recognizes the self-worth and unique talents in everyone.
The Lakewood City School District (LCSD) embodies the values that I mentioned above. LCSD is committed to providing an educational experience for students that is well-rounded. I envision the LCSD working and operating in concert with the greater Lakewood community with a desire for the schools and community to be viewed as a single system. This synergy is crucial for the sustainability of a healthy, long-lasting school/community relationship. More importantly, this synergy works like an arm that wraps around and supports our children as they mature as learners!
My mission as your Superintendent is to create and cultivate the conditions that will allow for rigorous and relevant teaching and learning; to ensure that all children are receiving access to a viable curriculum and learning experiences that will prepare them for the world; and that teachers and administrators are supported in their growth and development.
I am so excited for the students and staff to return from summer recess. The Operations staff has been working hard all summer to prepare for the opening of school. Teaching and Learning and Human Resources staff members were busy over the summer interviewing and hiring the best and brightest staff to lead our children. I can't wait to visit our school buildings and interact with students and staff.
Lastly, I would like to thank Mr. Jeff Patterson, who just retired as Lakewood City Schools' Superintendent. Mr. Patterson has been so gracious and helpful during my transition, and I will forever be grateful for his guidance and wish him nothing but the best.
Sincerely yours,
Michael J. Barnes, Ed.D
Go Rangers! #RangerPride
Read More on Schools
Volume 14, Issue 15, Posted 1:35 PM, 08.07.2018