2018 Lakewood Arts Festival Scholarship Winner - Elyza Mihalski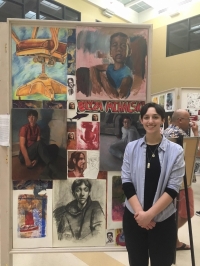 Elyza Mihalski is chosen as recipient of the 2018 Lakewood Arts Festival Scholarship of $4,000.
Elyza is a 2018 graduate of Lakewood High School who will study fine art at the Cleveland Institute of Art this fall. Regarding her work, she said, "Becoming a studied and well-trained artist means that I will have the tools to not only create meaningful and visually appealing art, but to give something to be proud of and to give the world something to enjoy." Work from Elyza's portfolio of paintings and drawings will be on display in Lakewood Public Library during the festival through early August.

The Lakewood Arts Festival awards a scholarship each year to a deserving high school graduate who resides in Lakewood and is pursuing a degree in the arts. More than 70 scholarships have been awarded since the Festival began in 1981. This year the Lakewood Arts Festival Scholarship is generously funded by supporters for the arts in our community. Proceeds from the food vendor/sponsors also goes directly to the scholarship fund.
Benefactors
The Foell Family
Brad & Margaret Richmond
Linda M. Rocchi
Patrons
Curt Brosky
Karen Karp
McGorray Hanna Funeral Home
Collectors
Kathleen & Jim Barbero
Ann & Bill Beyer
Annamarie Brockman
Marilyn & Randy Brundage
Joanne H. Calkins
Ken & Kathy Haber
Karolyn Isenhart
Larry & Anne Davalla
Sharon McManamon
John & Nancy McMillan
Karen & Anne Millisor
Cindy & Jake Marx
Diane M. Palos
John Pyke
Sonia Rosberg
Shark & Minnow
Lucy & Anthony Sinagra
Fran & Mark Storch
Missy & Darren Toms
Carl & Dee Wirkiowski
Sponsors
American Indian Education Center
Ellen Brzytwa
Pamela J Ehren
Barbara Gurney
Pat Majeski
Suzanne Owens
Bob & Judy Riley
Susan G. & Thomas J. Wagner
Brandi McElhatten is a Board member of the Lakewood Arts Festival.
Brandi McElhatten
Brandi McElhatten is a Board member of the Lakewood Arts Festival.
Read More on Arts
Volume 14, Issue 15, Posted 1:35 PM, 08.07.2018