Lakewood Arts Festival - Original Artwork, Original Music, Original Food - August 4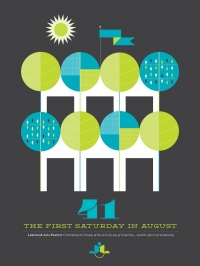 For one glistening summer day, Lakewood closes Detroit Avenue, between Belle and Arthur Avenues, and brings artists of all disciplines together along with 15,000 collectors and art lovers. The juried festival hosts over 175 regional and national artists and makers displaying paintings, prints, photography, art glass, ceramics, jewelry, sculpture, fiber and more.
Returning to the festival this year will be Lakewood ceramic artists Yumiko Goto, "2017 Best of Show" and Ikuko Miklowski featuring hand thrown stoneware. Yumiko participates in the festival "to share love and joy under the sun." Phillippe Laine from Palm Beach, Florida, a festival favorite, offers one of a kind hand-painted silk fabric, and Heather Smotzer, fine jeweler, uses traditional metalsmithing techniques in modern designs. The Festival is also happy to welcome back Roger Coast, who has shown at every festival for 41 years. Roger's engraving plates have exquisite detail, he will be in his booth working on new plates throughout the day. Fine art includes works by George Kocar and Brian Jasinski of Grey Cardigan. New to the festival this year, will be sculptor Gianni Chesnick and painter Bethany Crum among others.
Originally founded in 1978 to bring artists to the city for a street festival, in 1981 the Board of the non-profit decided to fund an annual scholarship for Lakewood seniors continuing to art school. After the Festival the Board will present $4,000 to the 2018 recipient, Elyza Mihalski, who will attend the Cleveland Institute of Art this year. The event also funds grants for arts education and programming in the city. Recent awardees include H2O (Help to Others, middle-school students), The Barton Center (senior arts activities), The Beck Center for the Arts (Saturday programs), LHS Theater Program, LHS Photographic Arts programs and more.
Live performance is another aspect of original art to appreciate at this years' fest. Ten performers on two stages include music at the MARS STAGE and CENTER CITY PARK featuring Punchdrunk Tagalongs, Senegalese drummer Assane M'baye, Luca Mundaca with Alexis Antes, New Ohio Jazz Trio, Chris Allen with Austin Charanghat, Cats on Holiday and more. We're also excited to offer a day of demonstrations, entertainment and hands-on family activities at the BECK CENTER STAGE between St. Charles and Belle.
EAT ON THE STREET food court is located in front of Lakewood Library on Detroit and will offer food trucks who also contribute to the scholarship fund. This year we'll host vendors at multiple locations on Detroit: Eat on the Street - Food Trucks (Arthur/Detroit): The Sweet Spot (Gelato, Coffee, Affogato), Smoke'N'Rock Roll Food Truck (American Smokehouse on wheels), Touch Supper Club (Contemporary American comfort food), Bearden's Rocky River (Steak burgers and fries), Wok n Roll (Asian Fusion / Vegetarian); Snack Spot (Gladys/Detroit): Woolson's Popcorn & Lemonade – Gladys/Detroit and Woolson's Lemonade at St. Charles/Detroit.
For additional information, go to www.lakewoodartsfest.org.
Katherine Isenhart is a Board Member of the Lakewood Arts Festival.
Karolyn Isenhart
Katherine Isenhart is a Board Member of the Lakewood Arts Festival.
Read More on Arts
Volume 14, Issue 15, Posted 12:05 PM, 08.03.2018