Something In The Water: Reviews Of Recent Releases By Local Bands, Pt. 74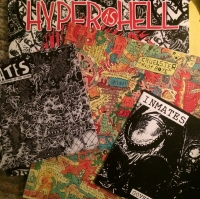 Disclaimer: Record reviews are a tricky business. It's one thing to enjoy music, but to pick out what you like (or dislike) about it? That being said, if I review your thing and I didn't like something, don't feel too bad. My opinion doesn't matter all that much.
Cruelster - Riot Boys - Lumpy Records - 14 songs - LP
I'd like to come out and make the claim that I was more excited to hear about a new Cruelster record than almost anyone else. I like everything these guys do, but Cruelster just holds a special place in my heart. This brand new LP kicks off with a clip of someone talking at great length about Captain America, and I won't go any further to avoid spoiling it, but it's pretty funny. I wanna know whether they found this somewhere or created it themselves. The problem I have is it does go on for a pretty long time and sometimes I just wanna skip to the music. Kinda like that one Uranium Club album, ya know? Hold on, I'll say Devo right now and then stick "something in the water" in at the very end, just to make sure I cover all my bases. I would not call Cruelster a hardcore band, though I know some would, because musically I don't think they're that hardcore. Other people would probably call this "Jimmy punk" or whatever that's been renamed to this week, but I don't know about that either, because I find a lot of those bands completely boring and Cruelster is anything but boring. I'm just going to say it's punk. That satisfies me plenty. I mean, we can do a whole analysis here: on the famous Lumpy label; goofy lyrics; band photo contains lots of Rancid memorabilia. It's punk, I don't care what imaginary subgenre it is. I'm glad the first song here is "Crisis In Local Government Part III," which is mostly a remake of "Crisis In Local Government Part II." It's quite a powerhouse of a song, but I'm really going to raise a fuss that they cut the "digging up skulls at Kiddie Park, murder in the ferris wheel long after dark" bit, which is probably my favorite Cruelster lyric. Points docked for that, sorry. As that line would imply, this band can be at times pretty locally specific– I'm not sure how "Cox Triv and Rover" will fly in, say, Los Angeles, but I like it. Interspersed throughout the record are short synth-based interludes, my favorite of which is the delightfully creepy "Laminate It Later," which actually brings to mind another point. At the end of "Why Did They Do That To Me Back Then," there's a bit where Piss and Runt (or maybe just one of them doubled, but that seems like a waste of resources) say "we thought you were in China, Yes Yes…we can sound just like you." Then "American Boots For Who" starts and I started thinking "wait, this actually sounds more like Nathan than it does Mike" and then that cast doubt over the whole thing. I'm not sure who it is in the lead on "Laminate It Later." My guess would've been Alex, but now I really don't know. It's gotta be Yes Yes on "Dum Fuk," that "we!" at the end is too perfect. I'm pretty sure Yes isn't on "Coco's Secret" at all, but again, I'm completely confused. "The Pipeline Could Work" is a phenomenal tune (that "chorus" melody is perfectly obnoxious; the spoken "I think it could work!" in the middle is perfect; etc.), and along with other great songs like "Gold Studded Citizen" and the outstanding closer "Benghazi Mommy," really get into an important point. I think Lumpy included something like this in his description on his website, but this really is the perfect answer to people who said, "well, now that Trump is president, we'll get some great new punk!" Well, yes, because you got a new Cruelster record, that's very correct. I don't know if this is the political punk you were hoping for, but it's the political punk we all deserve. I really could go on about this record all day, but this review is getting really long anyway. Wonderful artwork as one would expect of Nathan and friends; I think I could spend a good hour or so just taking it all in. Huge thanks to whoever put my name on there. 4.5/5
(lumpyrecords.com)
Hyper As Hell - Primer At This End / Rock 'N' Roll Liberation Front / Mr. Fixit / Demos 1987 - My Mind's Eye - 19 songs - 2xLP
First complaint: wow, what an unnecessarily long title! Just make it self-titled, or call it "Primer At This End Plus!" or pick out a choice song title or something. Come on. Hyper As Hell were from Kent and would I guess be called "crossover," that is to say, hardcore but also metal. I can decidedly say that this is not my favorite genre of music. However, I think that description kinda sells HAH short. Yes, they're that, but they've got some other stuff going on. A couple more interesting elements thrown into the mix. I was also told that they were "heavily inspired by anarchy…and acid" and I think that's pretty fair, especially lyrically. Even I, a noted curmudgeon, have to say that the "Primer At This End" material is pretty good. There's some real shredders and burners and all that in there, and I like that several of the songs have at least three separate intros. I particularly enjoy the Wayne Kramer / Rick Nielsen on "Ain't That A Shame" lead guitar at the start of "Parasite Human." Bet you didn't think you'd be seeing a reference to Cheap Trick in this review, huh? I can't really say much more about "Parasite Human" other than I think it rules. "Hyper As Hell" lives up to its name, and I like to think that the "pieces of pie" lyrics are a Devo reference, being from Kent and all. Closing with the hard rock moves of "Spy Vs. Spy" into the crushing "Dead Next Door" is the icing on the cake. Now, the second LP. Side 3 here is later material, from 1993, and it's kinda iffy. Double LPs always tend to drag around C, so take that into consideration, but I think it's also just not as good, to be rather blunt. I like the weird surf bits on "White Plague," but I lose track of whatever the metaphor is supposed to be in "Merry Goats." Side 4 is demos for most of the "Primer" material, plus the similarly-styled "Get Up, Stand Up." I think that the way to take this in is kind of as the deluxe edition of "Primer At This End" (though that doesn't explain the '90s material, but ignore that for the sake of my argument), in which case it's cool to have "Primer At This End" on vinyl and the second LP as bonus material for the fans. Overall: a pretty decent piece of Kent music history, worth checking out for "Primer At This End" at least. 3.5/5
(mymindseye.bigcartel.com)
Inmates - Government Crimes - Saucepan Records / Ultra Sonido - 7 songs - 7", download
Here it is, the long-awaited reissue of the first record by the Inmates. I don't know what more can really be said other than it's truly a hardcore classic. These songs are just ragers through and through. The record starts off with "Riot," which goes by so fast you've barely even processed what's about to happen to you before you get hit with the ever-timely "Government Crimes" and the anthemic "I'm So Scummy" and the side finishes up with the apocalyptic "Burning (Kuso)." Side B doesn't let up, starting with "Falling Down Drunk" (any time Paul E. Wog really goes into hysterics with the vocal performance is great) and followed by a wonderful poem entitled "I Wreck," which serves as an intro to "Pipebomb," another violent assault on the senses, the world, and your teeth. Closing the platter out is a cover of Chaos U.K.'s "Victimized." I mean, I truly don't know what more can be said. An all-time top hardcore EP, undeniably. Saucepan and Ultra Sonido did a good job here as well. I think this is pressed from the original stampers (and uses the original labels) so it sounds good, the cover looks decent, and there's a nice (if perhaps unnecessary) insert included. 4.5/5
(saucepanrecords.bigcartel.com / inmatesncr.bandcamp.com)
Inmates - Creatures Of The Night - Noncommercial Records / No Patience Records - 6 songs - 7", download
An all new record from the all original Inmates. I think this is their first since 2014 (or maybe 2015, I can't remember when the self-titled LP came out) and the first with the original lineup since I don't know when. This record kind of finds Inmates going a bit metal on certain songs, like maybe Paul had some rejected Party Plates riffs that he offered up. Very positive sentiments throughout, especially in regards to the music scene and other bands: "you're all the same," "rehashed riffs imitation," "fake songs of protest"…and that's from three different songs. Continuing the trend towards metal, "Ronnie James Melnick" talks a lot about "the beast" and there are some demonic moments in "Creatures Of The Night," though I believe that it's actually just a person being described with some heavy imagery. The latter also features a screaming bit that sounds right out of a Breathilizör record. My favorite tune here has gotta be "I Believe I Can Die," which is pretty much a ripper. I remember when it was a Magic City song! Altogether, a solid EP here. Enough moments of the Inmates classic hardcore sound with some change in style in certain places. Great artwork by Nathan Ward as well, who I hear is ruining the scene and maybe even the entirety of art in general. 3.5/5
(inmatesncr.bandcamp.com to download, try a local record store for the record)
Are you a local-ish band? Do you have a record out? Email vaguelythreatening@gmail.com or send it directly to Observer headquarters: The Lakewood Observer, c/o Buzz Kompier, 14900 Detroit Avenue, Suite 205, Lakewood, OH 44107.
Read More on Arts
Volume 14, Issue 14, Posted 5:57 PM, 07.17.2018