North Coast Winds Performs Summer Concert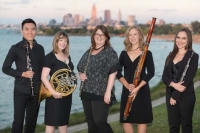 Escape the summer heat for the tranquility of mountain streams when North Coast Winds performs "Of Mountains and Rivers" in the Main Library Auditorium on Sunday, August 5, 2018 at 2:00 p.m.
Five Cleveland Institute of Music alumni formed North Coast Winds (NCW), a woodwind quintet, with the goals of making inspired music, offering memorable educational programming, and connecting with the broadest audiences possible. In pursuit of this latter goal, NCW established a weeklong residency in Sitka, Alaska, where the group introduced hundreds of people in both educational and recital settings to its instruments, skills, and musical storytelling.
NCW Members include Arleigh Savage, principal bassoonist with the Cleveland Opera Theater; clarinetist Benjamin Chen who made his American concerto soloist debut at the Kennedy Center; Emily Rapson, second horn of both The Wheeling Symphony in West Virginia and the Erie Philharmonic in Pennsylvania; Mary Kausek, the principal oboist of CityMusic Cleveland; and Madeline Lucas Tolliver, the Large Ensembles and Woodwind Chamber Program manager at the Cleveland Institute of Music.
NCW's performance "Of Mountains and Rivers" will feature Cleveland composer Eric Ewazen's Roaring Fork Quintet as well as other evocative music relating to nature landscapes.
Read More on Library
Volume 14, Issue 14, Posted 5:57 PM, 07.17.2018