Xtreme Magic With David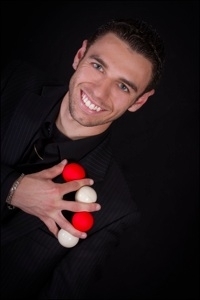 Children and their families are invited to the Lakewood Public Library to enjoy a performance of Xtreme Magic with David. This versatile entertainer's love for magic and the performing arts started at a young age. David Anthony received his first magic kit, given to him by his uncle, when he was just five years old. He started performing at various functions throughout the city when he was twelve. While in high school he became a member of the St. Ignatius Circus Company. This opportunity helped him hone his magic and juggling skills. David attended his first magic convention when he was fifteen years old. Since then he has entered many competitions and won several awards with his winning act. From New York to Las Vegas, David has entertained thousands. You can be one of the many who have been awed by David Anthony's show!
This amazing performance will take place on Friday, July 13, 2018 at 3:00 p.m. in the Main Library First Floor Multipurpose Room. For details about other youth programs at the Lakewood Public Library, please call (216) 226-8275, ext. 140 or visit www.lakewoodpubliclibrary.org/youth.
Read More on Library
Volume 14, Issue 13, Posted 6:08 PM, 07.03.2018