Nothing To Say, I Got Nothing To Say...: Reviews Of Recent Releases By Local Bands, Pt. 73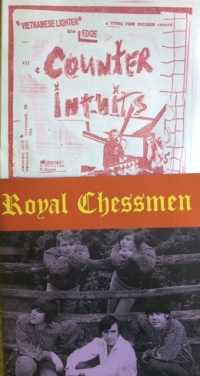 Disclaimer: Record reviews are a tricky business. It's one thing to enjoy music, but to pick out what you like (or dislike) about it? That being said, if I review your thing and I didn't like something, don't feel too bad. My opinion doesn't matter all that much.
Counter Intuits - Vietnamese Lighter - Total Punk Records - 2 songs - 7"
Two new ones from the only Ohio supergroup I respect. And now they're on the massively popular and influential Total Punk label, so they've got that going for them. They're back to just the senior division with Ron and Jared on this one. "Vietnamese Lighter" is I guess a sorta post-punky one that really just runs the riff into the ground over the course of its "about two and a half minute" lo-fi shuffle. This is gonna shock a lot of regular readers of this column, and it shocks me too: I don't think it's the greatest thing ever. Obviously, I love everything Ron House does, but this one just seems a little weak, especially for him. I can't make out most of the vocals, I suppose maybe that would make a difference. The flip, "Edge," on the other hand (side), is the superior cut for sure. The semi-acoustic and weirdly-instrumented nature of it puts it fully within "the Columbus sound"– for some reason, I kinda wanna say it reminds me of Creeper Ohio, or some other Mike Rep thing. I heard one critic somewhat derisively say it sounds like Guided By Voices, which I guess I can hear, though I think that sells it a little short. Pretty good tune. I think both songs here would feel perfectly in place on a Counter Intuits LP, I just don't know how well they stand as a single. Maybe if the sides were flipped I would feel differently and I'm just thrown off by "Vietnamese Lighter" being considered A material by someone. All that said, "Edge" is pretty great and even the crummiest of Ron House songs (which "Vietnamese Lighter" isn't, I just don't think it's the band's best) is better than almost everything else. Of course, that statement suggests that Ron has any crummy songs, which he doesn't. 3.5/5
(floridasdying.com)
Royal Chessmen - Don't Tread On Me - My Mind's Eye / B-W Records - 2 songs - 7"
The latest installment in My Mind's Eye's Ohio archival series, and the third garage rock one (after Piccadilly Circus and The One Way Street, both also on B-W). "Don't Tread On Me" is good, spooky garage with an organ. It sounds a little bit like the Zombies. I really like that as soon as they're out of the first chorus, it's time for the guitar solo. That's real garage rock. "I'll Find A Way" on Side B is a little more upbeat. It's still definitely '67 garage (with psych creeping in) and not hard rock, yet for some reason it reminds me a bit of the Damnation of Adam Blessing (pick up those reissues as well, by the way, if you haven't already). Who knows, it's probably something to do with the harmonies and the bassline. Maybe you'd have to hear it. There's also a definite Monkees feel there, I'd say. Two good tunes, a sharp looking pic sleeve with informative and entertaining liner notes by Tom Fallon, and the promise of more in this series. What more can you want? 4/5
(mymindseye.bigcartel.com)
Are you a local-ish band? Do you have a record out? Email vaguelythreatening@gmail.com or send it directly to Observer headquarters: The Lakewood Observer, c/o Buzz Kompier, 14900 Detroit Avenue, Suite 205, Lakewood, OH 44107.
Read More on
Volume 14, Issue 14, Posted 6:19 PM, 07.03.2018