Meet The Author Of "50 Must-Try Craft Beers Of Ohio"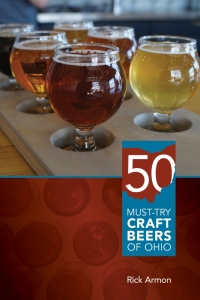 If you ask Rick Armon, your bucket list is not complete without trying all fifty of his carefully selected Ohio-made craft beers. The hours of exhausting research might have broken any other man, but Armon has endured to bring you his latest, aptly titled book, "50 Must-Try Craft Beers of Ohio." The author will be visiting Lakewood Public Library on Thursday, July 26, 2018 at 7:00 p.m.
Many would argue that a nice cold beer is pretty fun on its own, but Armon's handy guide makes the experience even more enjoyable with insights into each prominent pint. He highlights the personalities, histories and flavor profiles behind his selections, whether it's a Fruit beer, American porter or Double India pale ale.
Joining the author on Thursday is Richard Skains from Working Class Brewery and taproom which is located in the Kamm's Corners area at 17448 Lorain Avenue. Skains is an award-winning brewer with a passion for making and tasting great fresh local craft beer.
If you simply enjoy a good beer or consider yourself a full-fledged aficionado, "50 Must-Try Craft Beers of Ohio" is a great, glossy paged, well-photographed read. Books will be available for sale and signing at the event which will be held in the Main Library Lower Level Auditorium at 15425 Detroit Avenue.
Read More on Library
Volume 14, Issue 13, Posted 6:08 PM, 07.03.2018