Mark Twain Lives At Lakewood Public Library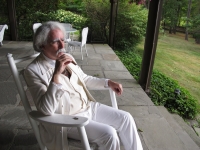 How does a performer collaborate with a writer who's been dead since 1910? Ask Mark Dawidziak, television critic for the Cleveland Plain Dealer, who's been portraying Mark Twain on stage for thirty-eight years.
Dawidziak and his wife, Sara Showman, will appear in "Twain by Two" in the Main Library Auditorium on Sunday, July 15, 2018 at 2:00 p.m. Founders of the Largely Literary Theater Company, these actors have been touring the United States since 2002, promoting literacy, literature and live theater. Mark Twain may have written the material, but Dawidziak and Showman bring his words to life.
A recognized Twain scholar, Dawidziak is the author or editor of several Twain-centric books, has been a visiting scholar at the Center for Mark Twain Studies and has presented academic papers on Mark Twain at national conferences. In addition, Dawidziak has worked as a theater, film and television critic since 1979 and been an adjunct faculty professor at Kent State University since 2009.
Join the Largely Literary Theater Company at Lakewood Public Library on July 15 and see Mark Twain brought to life. The performance will be followed by a question-and-answer session and a book signing.
Read More on Library
Volume 14, Issue 13, Posted 6:08 PM, 07.03.2018