Garfield's Walter Named Next LHS Principal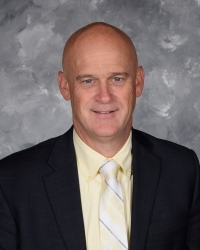 The Lakewood Board of Education approved on June 14 in a special session the appointment of Garfield Middle School Principal Mark Walter as the next Principal of Lakewood High School effective August 1.
Walter, who is replacing Keith Ahearn, is a 1982 graduate of Lakewood High and joined the District in 1998 as a science and language arts teacher. After teaching at the middle school level for six years, he joined the administrative ranks as Assistant Principal at the former Emerson Middle School. The following year he was named Principal at the former Horace Mann Middle School. He then landed at Garfield, where he as served as Principal for the past 11 school years.
As both a teacher and administrator, Walter has been involved in many Lakewood education teams and committees such as the Lakewood Local Professional Development Committee (LPDC), Entry Year Teacher Committee, and curriculum development. He received his undergraduate degree from Kent State University and his Master's in Education from Cleveland State University. Along with his teaching credentials and administrator licenses, Walter also completed the work to attain National Board Teaching Certification.
"I am deeply honored, humbled, and excited to have this opportunity to further my career at Lakewood High School," Walter said. "It is truly a privilege to be named the principal of my alma mater in the community where my roots are and my heart lies."
"I am grateful to all of my colleagues at Garfield and throughout the District who work so hard to ensure student growth and success. I am extremely appreciative of the Lakewood Board of Education, Superintendent Patterson, Assistant Superintendent Ramsey-Caserio and our incoming administrators Dr. Michael Barnes, and Mrs. Maggie Niedzwiecki for their confidence in me and for providing me with this unique opportunity."
Dr. Barnes, the District's next Superintendent said, "I am incredibly excited that Mark Walter will be the next Principal at Lakewood High School. Mark is an exceptional leader that is extremely kid-centered. As a Lakewood High School graduate himself, Mark truly understands the value that this community places on the development of the whole child. I look forward to working and supporting Mark Walter as Lakewood High School's next Principal."
Read More on
Volume 14, Issue 12, Posted 4:18 PM, 06.19.2018