Concert By Three Strands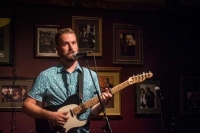 Lakewood Public Library is pleased to welcome Three Strands to our Main Library Auditorium concert stage on Sunday, July 1, 2018.
Singer/Songwriter Sean Cox founded Three Strands because he wanted to explore love, loss and community and their influence on what we find true and good. Through honest, simple arrangements and influences from American folk revival and early gospel and blues, Three Strands searches for the strands that unite us all.
Born in Lancaster, PA, Cox is fascinated by Henry David Thoreau, literature and nature. His song "Ash Filled Soul" was inspired by Thoreau's "Walden." In an interview with witf's Joel Ulrich, Cox discussed his fascination with "Walden." "I got kind of consumed with...self-sufficient living in nature... And I created a story of somebody who took that way too far and isolated themselves. I think it can address a lot of our technology obsession too. I think that the character in the song [could be] somebody who's consumed by themselves in their social media identity..."
Three Strands' concert takes place on Sunday, July 1, 2018 at 2:00 p.m. in the Main Library Auditorium. Admission is free, and all are invited.
Read More on Library
Volume 14, Issue 12, Posted 4:18 PM, 06.19.2018