Strengthening Democracy: The Lakewood Chapter Of The League Of Women Voters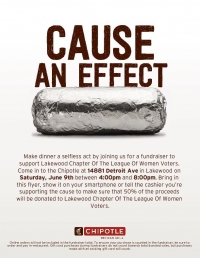 Most people know that the League of Women Voters registers voters. But the League of also studies issues and influences public policy through education and advocacy. As an example, the League was an active partner in Fair Districts, the group that fought against gerrymandering in Ohio (Issue 1 passed by almost 75% in the May election). And the Greater Cleveland League of Women Voters supports ethics in government, public libraries, a health care system that delivers adequate healthcare to all citizens of Cuyahoga County, and other relevant issues.
The League of Women Voters was born out of the National American Women's Suffrage Association in 1920. Founders proposed the League to educate and empower the new women voters. Today, membership in the League is open to men and women.
Consider joining the League at http://www.lwvgreatercleveland.org, or support the Lakewood Chapter on June 9thby dining at Chipotle on Detroit Avenue between 4:00PM and 8:00 PM. To be sure that your purchase supports the League, bring a copy of the flier below, or mention the flier at checkout. Thanks for your support!
Sarah Swanson
Lakewood Chapter of the League of Women Voters
Read More on Non-Profit
Volume 14, Issue 11, Posted 10:43 PM, 06.05.2018