Special Friday Performances Presents: Swifty The Clown's Balloon Show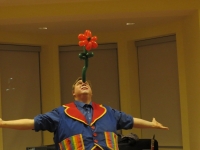 Looking for something to do in the warm summer days of June? Why not come to the Lakewood Public Library for a Special Friday Performance? On June 15, 2018, Children's and Youth Services will be presenting Swifty the Clown's Balloon Show!
Swifty the Clown is Ohio's premiere balloon artist, frequently ranked among the top balloon professionals in the country. Swifty has an arsenal of over 3000 astounding balloon creations in his repertoire, and if you can imagine it, he can create it. This lovable clown is regularly featured in local and national media, including Fox 8 News, the Trivisano show and has had his original creations on the cover of Balloon Magic, the #1 balloon magazine in the United States.
This program for children and their families will take place on Friday, June 15, 2018 at 3:00 p.m. in the Main Library first floor Multipurpose Room, which is located in Children's and Youth Services. This program is free and open to the public, and no registration is required. We hope to see you there!
Read More on Library
Volume 14, Issue 11, Posted 10:43 PM, 06.05.2018