Skindell Thanks Voters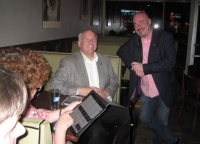 Dear Voters,
I am writing to thank Democratic Primary voters who came out during the May 8th election and voted overwhelmingly for our campaign for State Representative. I am extremely grateful and humbled by the confidence you have entrusted in me over the years to be your voice in the Ohio General Assembly. I have sought public office to serve and help people.
As your state legislator, I have fought hard for Northeast Ohio. Everyday, I fight to ensure our seniors are treated with dignity and for good paying jobs and workers' rights, fairness and equality, public education, clean air and water and transparency and openness in government. I come prepared to committee meetings and make a real difference in legislation under consideration. As a former Ohio Assistant Attorney General, I work hard to reach legislative agreement where possible and stand strong where necessary.
During this election I am proud that our campaign promoted civil discourse. We focused on a positive, progressive message without negatively attacking our opponent. The root of civil discourse is working to understand multiple perspectives through respect and engaging in positive dialogues and acknowledging the differences in culture and humanity.
Finally, a candidate for public office cannot be successful working alone. Our success on May 8th was the result of the work of many volunteers who reached out and talked to thousands of voters. I thank all who helped out in the campaign. I also want to thank all the community leaders who I have worked with to accomplish so much good for our region.
I thank you for your vote in the May 8th election and ask you for your continued support in the November 6, 2018 General Election.
Sincerely,
Michael J. Skindell
State Senator
Michael Skindell
State Senator Michael Skindell, an attorney and former Ohio Assistant Attorney General, has represented the citizens of Lakewood as a Councilperson at Large and State Legislator.
Read More on Other
Volume 14, Issue 11, Posted 10:43 PM, 06.05.2018