"Lost Cleveland": Memories of A City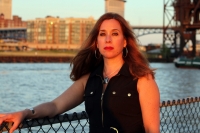 Cleveland has been through many changes over the centuries. One notable pattern is what reporter and author Laura DeMarco calls Cleveland's "rise-and-fall-and-recovery story." The city was once a glimmering jewel, one of the largest in the country. In the mid to late 1900s, though, many historic Cleveland landmarks and treasures were demolished, closed, or abandoned. A number of these landmarks are highlighted in DeMarco's book, "Lost Cleveland."
Cleveland's great rise to the fifth largest city in the U.S. took place from the late 1800s to the early 1900s. Industry boomed and so did the population, with greats like John D. Rockefeller settling along Millionaires' Row. Cleveland was at its worst around the 1960s-1980s; this "fall" was caused by factors including suburban flight, pollution, and the decline of industry. But Cleveland has had a revival in recent years, with the health care industry providing employment opportunities, sports victories bringing the city to prominence, and a growing focus on preservation and restoration rather than destruction.
"Lost Cleveland" looks at 65 landmarks that were lost to destruction or abandonment during Cleveland's difficult years. They include hotels, theaters, amusement parks, breweries, mansions, concert halls, stadiums, and music clubs. Although the book is about things we have lost, DeMarco emphasizes a message of hope – in Cleveland's recovery, and in the landmarks that are now being preserved.
Laura DeMarco is an Arts and Entertainment reporter for The Plain Dealer. She has been writing articles for several years about the need for historic preservation in Cleveland, which led to the inspiration for this book. DeMarco will be coming to the Lakewood Public Library's Main Library Auditorium on Thursday, June 21, 2018 at 7:00 p.m. to discuss "Lost Cleveland." Come join us and see some of the lost places of Cleveland as it made its way from "The City of Champions" to "The Mistake on the Lake" to "Believeland."
Read More on Library
Volume 14, Issue 11, Posted 10:43 PM, 06.05.2018